View this post on Instagram

I visited Oshino Hakkai village in Yamanashi prefecture.
It is famous for the very clear eight ponds and Japanese traditional buildings.
These ponds are fed by spring water from Mt.Fuji.
The Environment Agency included it in its National Top 100 Spring Waters.
This picturesque village is also very famous for the beautiful scenery of Cherry blossoms and Mount Fuji.

Cherry blossoms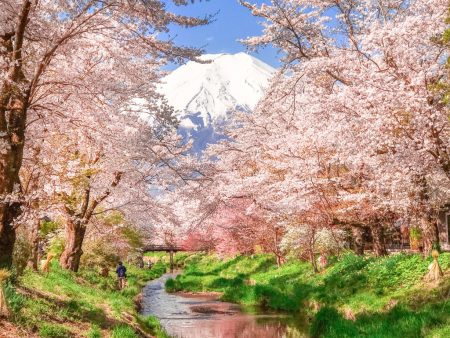 This picturesque view of cherry trees lined up along Sin-Nashogawa river in April is very popular.
I took this picture from Omiyabashi bridge – one of the most popular photo spot in this village.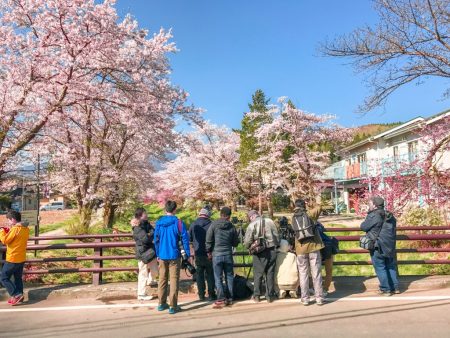 When mount Fuji is visible,this small bridge on the river is crowded with people.
Because they want to take picture in the composition of the above picture.
I arrived there at 8:00 AM, but many camera buff already occupied the place.
Contrary to the relaxing scenery, it was very hard to take pictures.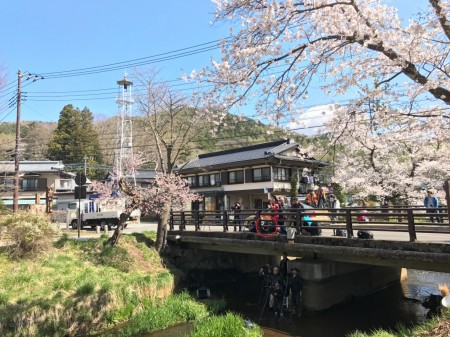 I took pictures like the man in the red circle.
Once I left this place, I couldn't go back again, so I shoot over and over again with a  variety of compositions.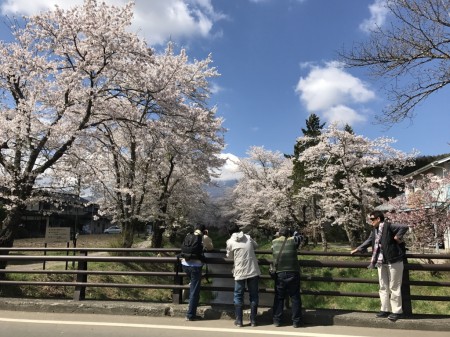 As Mount Fuji was covered with clouds, people left.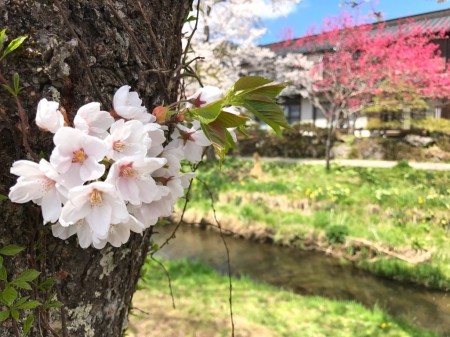 I walked along the Sin-Nashogawa river.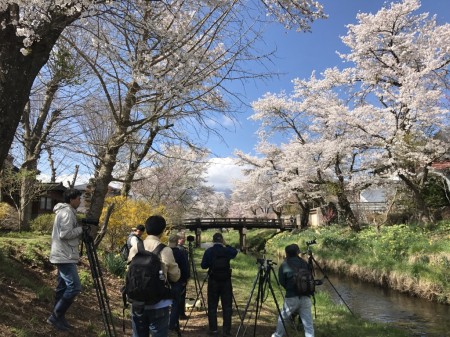 I arrived at the second popular photo spot of Mt.Fuji and cherry blossoms.
Compared to the first place, it wasn't crowded.
But still a little hard to occupy the best spot.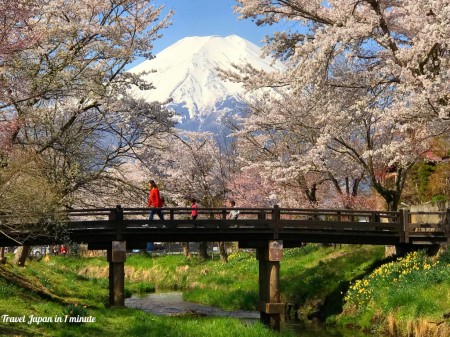 By chance mother and children crossed the bridge.
It made this picture more better.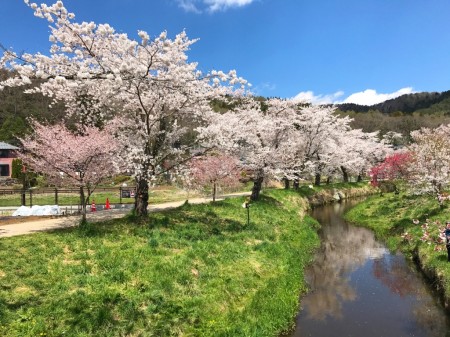 Then I continued to walk along the river.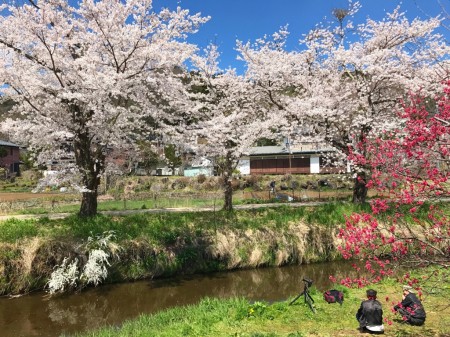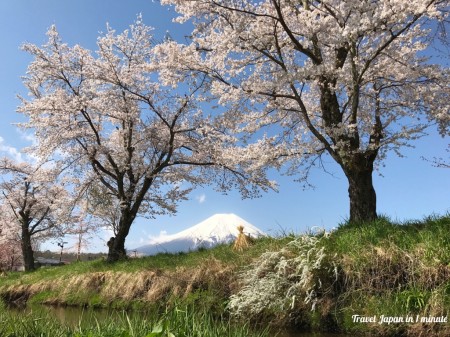 These two persons were taking a picture like this.
It is also one of the most popular scenery of Oshino Hakkai village.
To take this picture, I had to lie down on my stomach at the shore.
Everybody around me was shooting in the same way.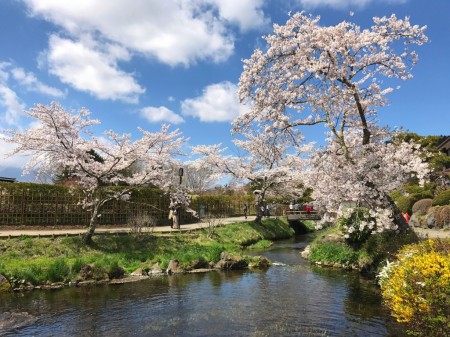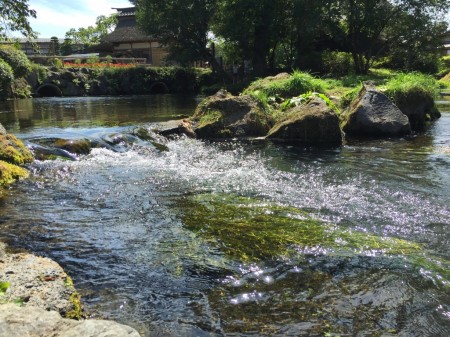 Then I arrived at Nigoriike Pond.
It is one of the 8 famous ponds in Oshino Hakkai.
Clear water was so beautiful!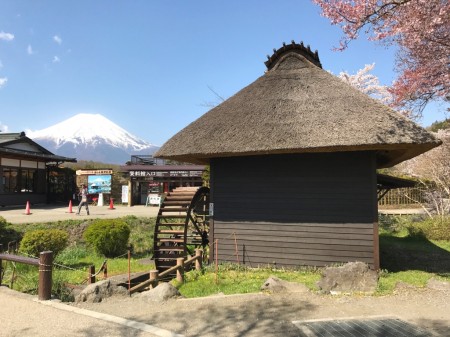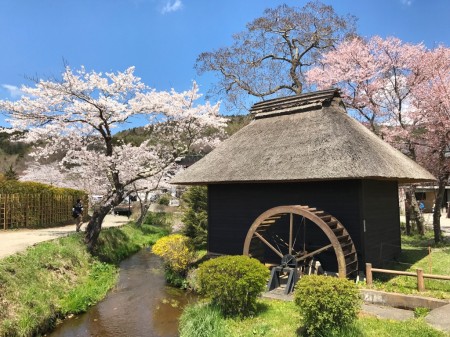 Water mill,Cherry blossoms and Mt.Fuji.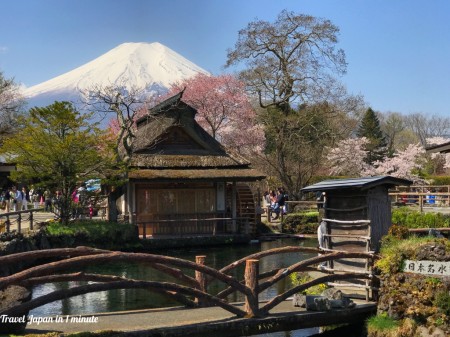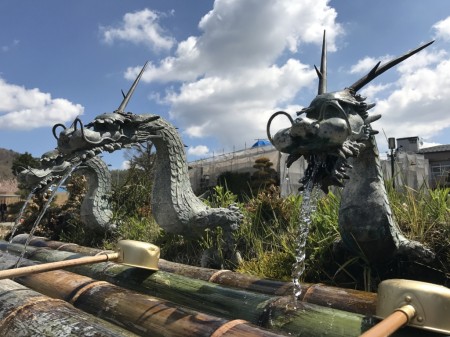 Finally I reached at the center of Oshino Hakkai.
It was 20 – 30 minutes walk from Omiyabashi bridge.
Summer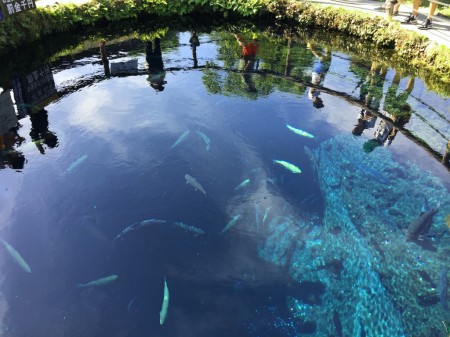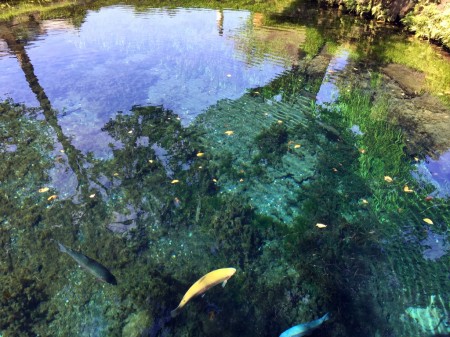 Waku-ike pond.
They have many hotels, restaurants, souvenir shops around the ponds which sell vegetables, sweets, pickles, crafts and other local products.
An open air museum, the Hannoki Bayashi Shiryokan is also famous.
Winter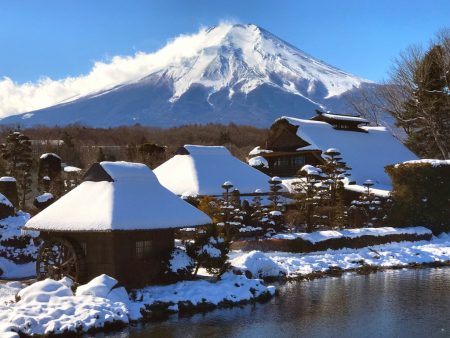 View from the observatory of Hannoki Bayashi Shiryokan Museum.
These buildings are the Japanese traditional farmhouse.
You can see inside the house which displays various farming tools, household items and samurai weapons.
Information
Admission Fee
Free
Only Hannoki Bayashi Shiryokan needs admission fee : 300JPY (hours:9:00~17:00)
ACCESS
BY TRAIN AND BUS (Approx. 2~3hours from Tokyo)
Tokyo station → 1.5hour by JR Chuo Line → Otsuki station → 40 minutes by Fuji Kyuko Line → Fujisan station → 15 minutes by bus → Get off at Oshino hakkai Bus Stop  → 5 minutes on foot
BY EXPRESS BUS
Shinjuku Bus Terminal in Tokyo → 2hours by Fuji Kyuko Bus → Oshino Hakkai Bus Stop
Timetable → http://bus-en.fujikyu.co.jp/highway/detail/id/37/#timetable
Tokyo Station → 2.5hours by Fuji Kyuko Bus → Oshino Hakkai Bus Stop
Timetable → http://bus-en.fujikyu.co.jp/highway/detail/id/37/#timetable
BY CAR
15 minutes form Kawaguchiko IC, Chuo Expressway.
10 minutes form Yamanakako IC, Higashi-Fujigoko Road.
There are many pay parking lots.
But I often use Ikemoto parking lot.
It is free and located near the center of Oshino Hakkai.
コメント