You can see the amazing scenery of the pink flower carpet of 800,000 moss phlox with Mount Fuji, 3776 meters Japan's highest mountain.
This festival is held at Fuji Motosuko Resort near the lake Motosu (one of the Fuji 5 lakes) in Yamanashi prefecture.

8 May 2019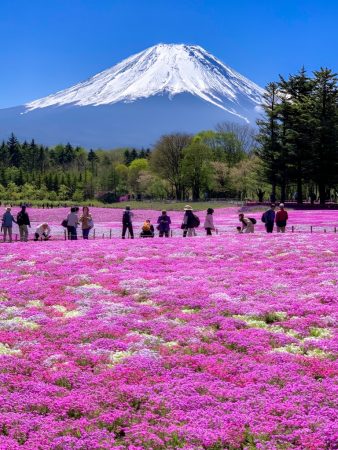 There are many fields with different flower pattern.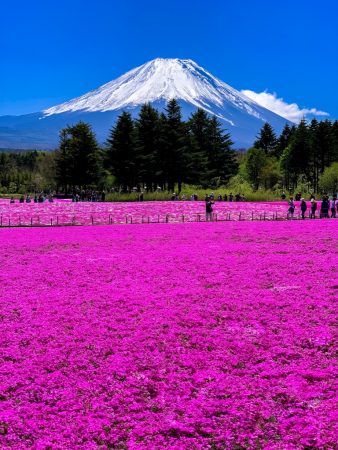 But I also like a carpet painted all in pink.
8 May 2017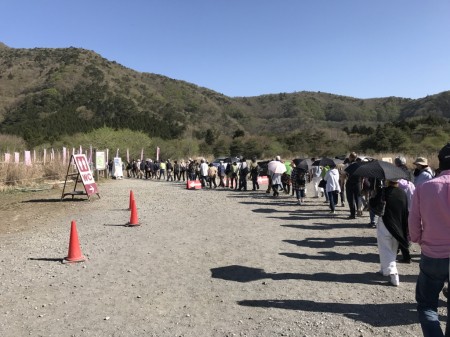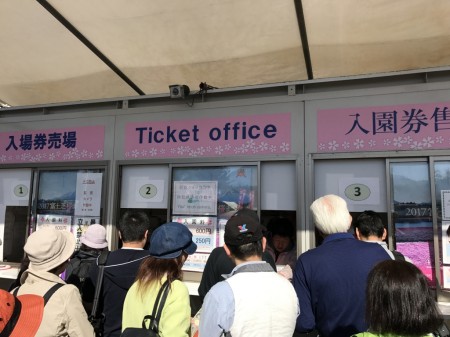 I arrived here at 7:40a.m.
It took about 1hour and 40minutes from my home in Fujisawa city by the car.
(Before I left home, I checked the visibility of Mt.Fuji by Mount Fuji Web Cam)
People already made a long line to buy an admission ticket!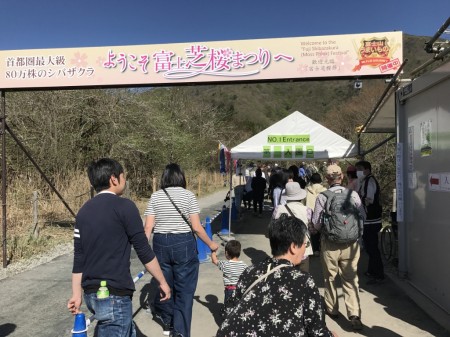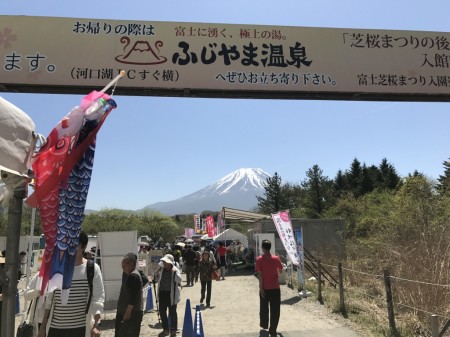 The staffs checked the ticket at the entrance gate.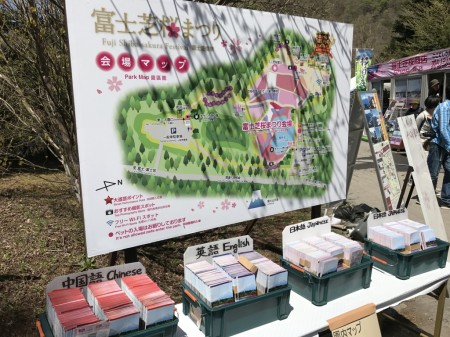 There were free maps written in English,Chinese and Japanese.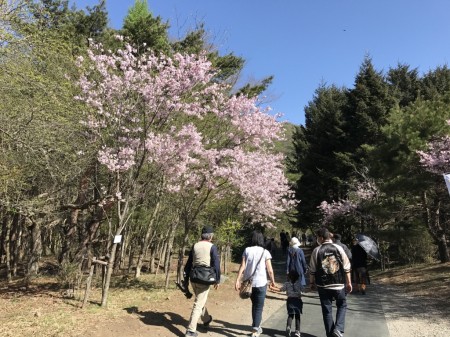 By walking the pathway for 5 – 10 minutes,you can go to the main field.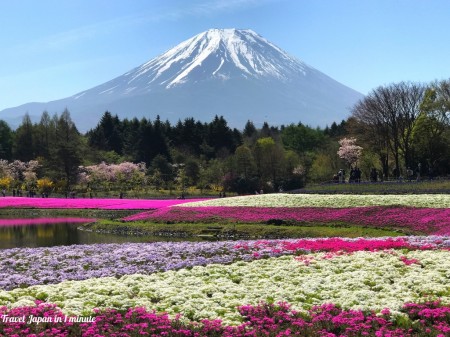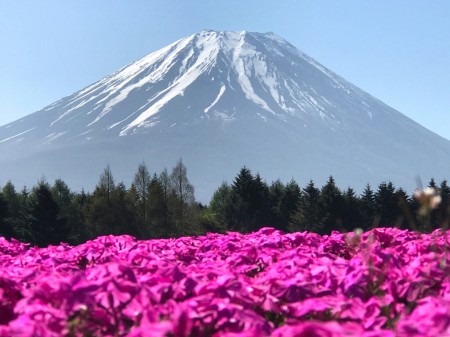 So beautiful!!
The sky might be a little hazed with yellow dust from China in this day, but still gorgeous.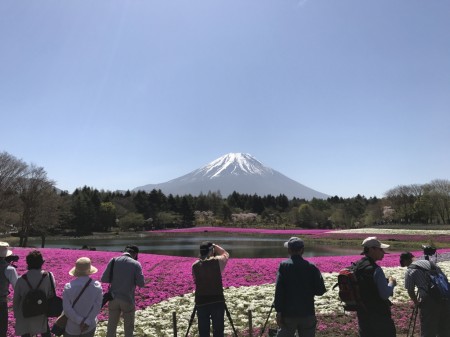 The bank of the Ryujin-ike pond was especially crowded with people because it was the most beautiful photo spot.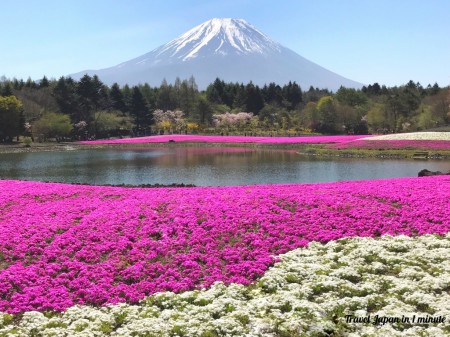 You can take a picture at here like this.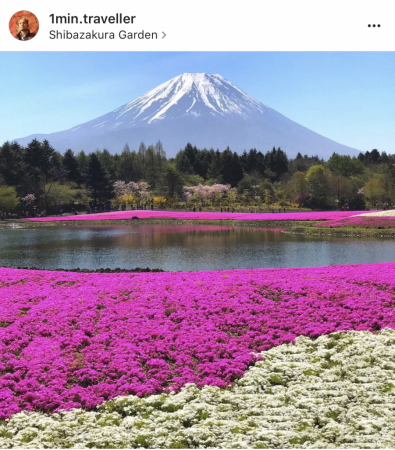 My post to Instagram.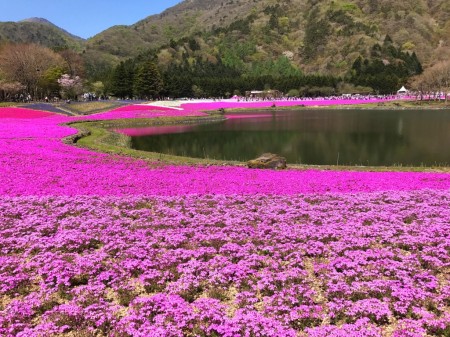 View from the opposite side of Ryujin-ike pond.
富士芝桜まつり #theta360 – Spherical Image – RICOH THETA

Besides the bank of a pond, there were many beautiful photo spot.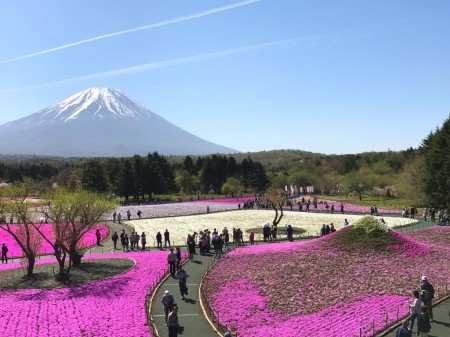 The view from observatory.
Though official announced that it was fully bloomed, it wasn't at their peak.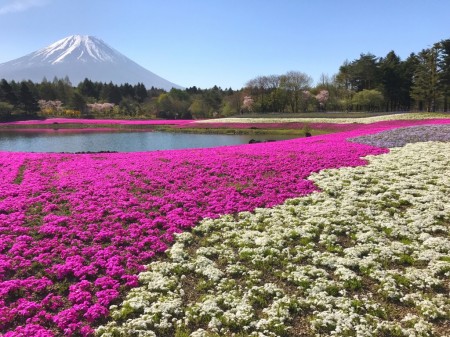 There were many sparsely bloomed place like this than I thought.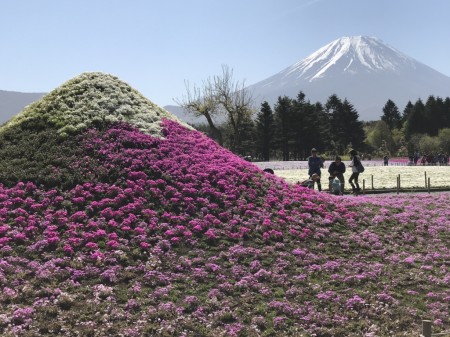 Mini mount Fuji was half bloomed.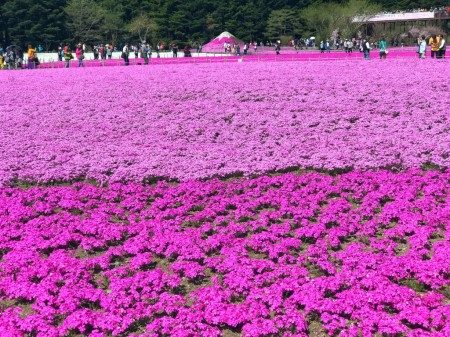 Shoot mini Mount Fuji from distance on the opposite side.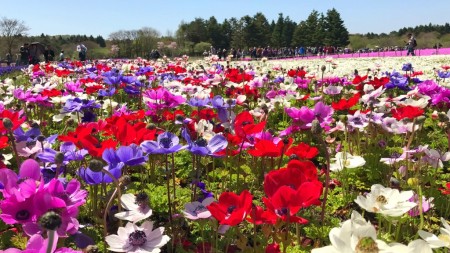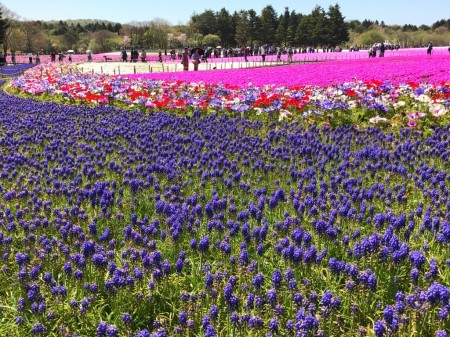 Anyway I enjoyed the beautiful scenery very mush.
Other flowers such as Anemone and Muscari were gorgeous, too.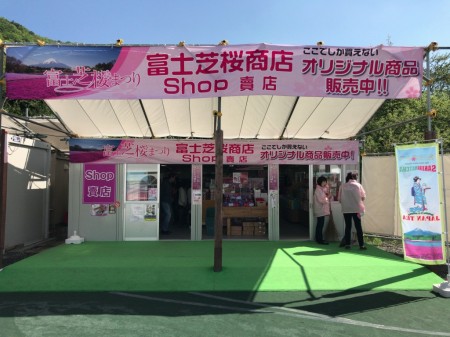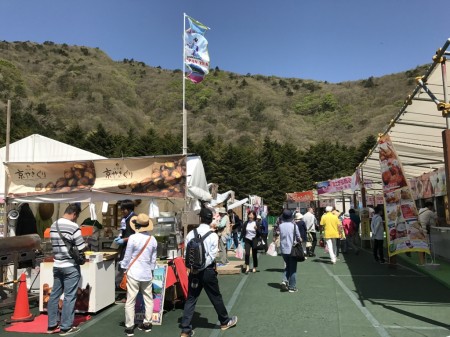 They have many food stalls and souvenir shops.
You can eat & buy various local specialties.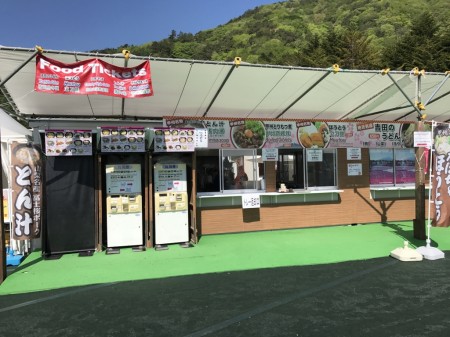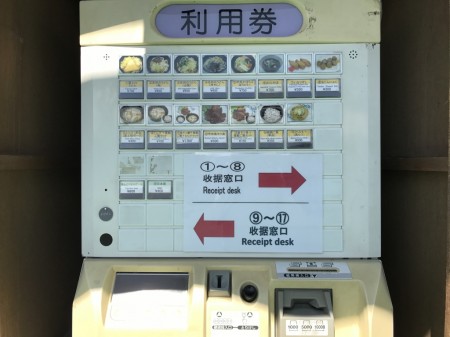 Ticket vending machine(English & Chinese are available) of the food stalls.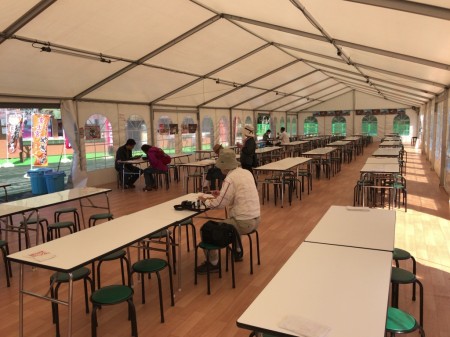 Free rest area.
You can eat foods that you bought in the shops and food stalls.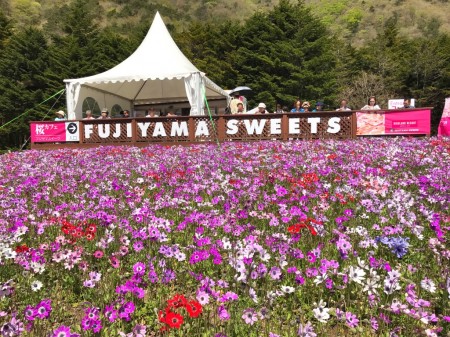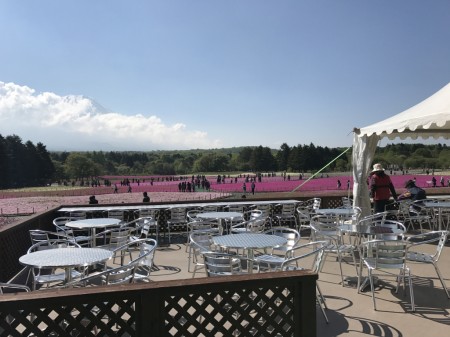 FUJIYAMA SWEETS cafe.
You can eat light meals and sweets with seeing beautiful scenery.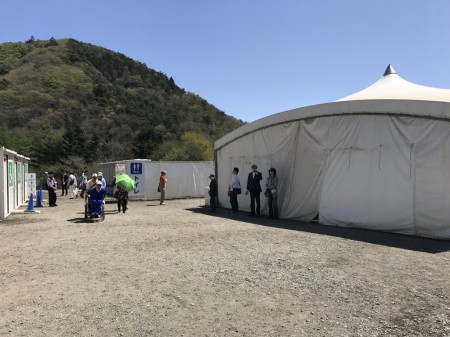 Public lavatory.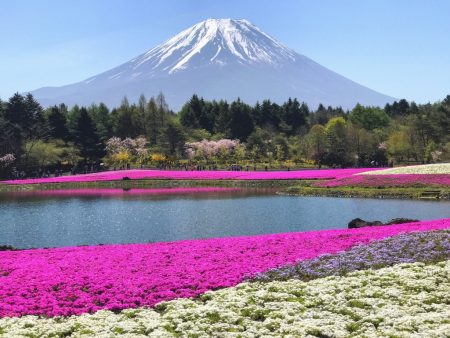 According to the local, the peak of the moss phlox were 1 week behind than usual because the beginning of the bloom was delayed.
So I want to visit there in the next week,too.
Information
【Date of visit】
8:00 ~ 10:30 of 8 May 2017.
【Opening hour】
From April 15 2017 to May 28 2017
8:00~17:00
No closing days during festival period.
【Admission Fee】
600 yen for 1 adult.
【Access】
・By Bus
Approx. 30 minutes by Shibazakura Liner shuttle bus from Kawaguchiko station of Fujikyu railway.
1-2 departures per hour.
A 2000 yen ticket includes the return bus fare and the admission fee.
・By Car
30 minutes from Kawaguchiko IC, Chuo Expressway.
There is a parking lot for 1000 cars.
500 yen for a standard vehicle.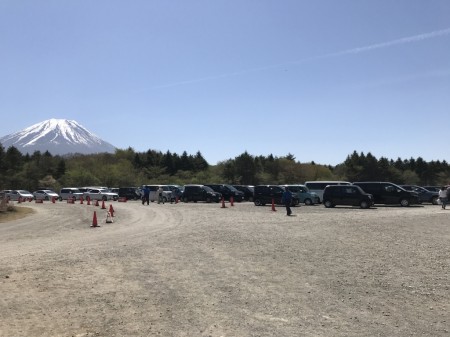 Parking lot
---
These pictures and videos were taken in the last year..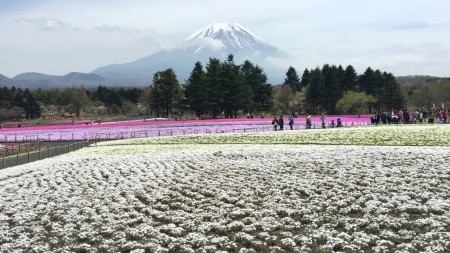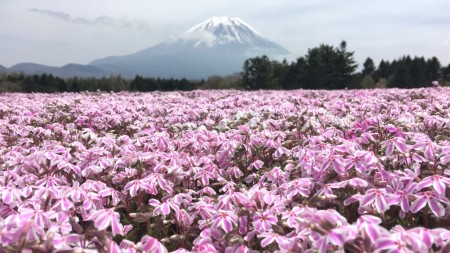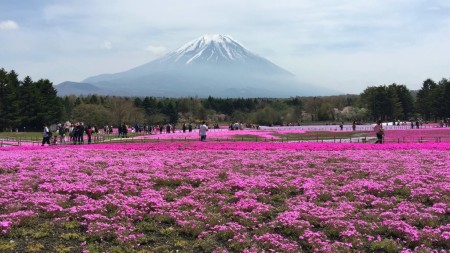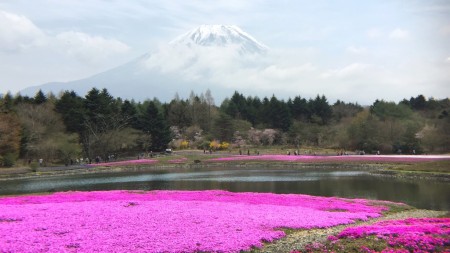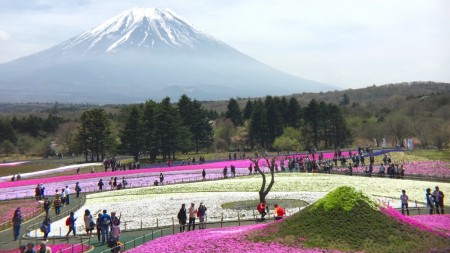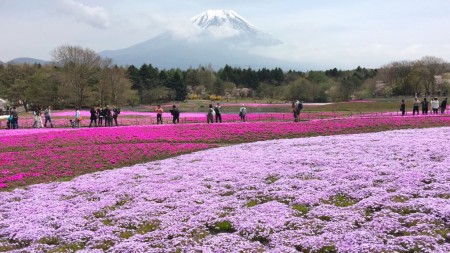 I went to Fuji Shibazakura Festival near the lake Motosuko in Yamanashi prefecture.
You can see various moss phlox with Mt.Fuji.
They were in half bloom,but I could fully enjoy to see the beautiful scenery!
They have fully bloomed in the end of April.
コメント