View this post on Instagram
Arakurayama Sengen park is one of the most famous place in Japan for its scenery of Mt.Fuji,cherry blossoms and 5 story pagoda.
They are fully bloomed between the beginning and mid of April every year.
This place is located in Fujiyoshida city of Yamanashi prefecture.

18 April 2019 – Cherry blossoms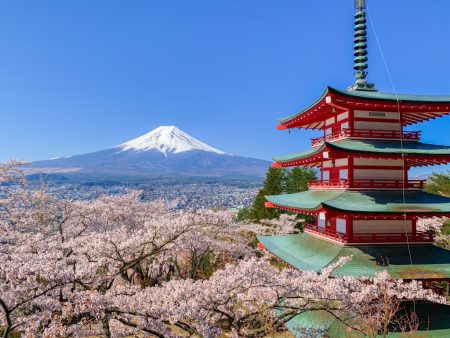 I was very lucky to be able see such a beautiful scenery again this year!
Actually it is difficult to see this scenery in the bright and cloudless day in April.
Because Mt.Fuji are often covered with clouds☁️ or hazy and the best time to see cherry blossoms is very short.
1 December 2019 – Snowscape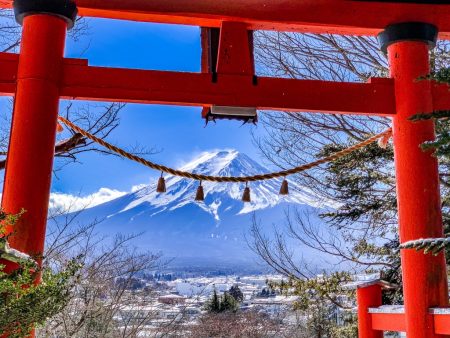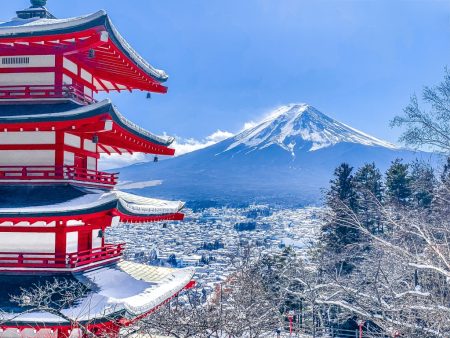 10 April 2018 – Cherry blossoms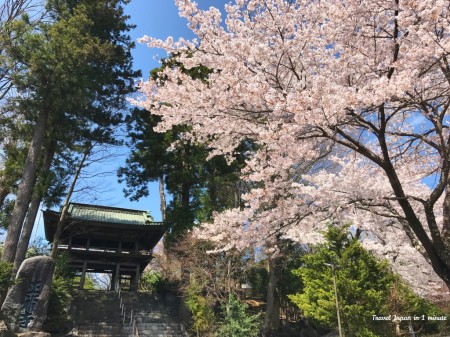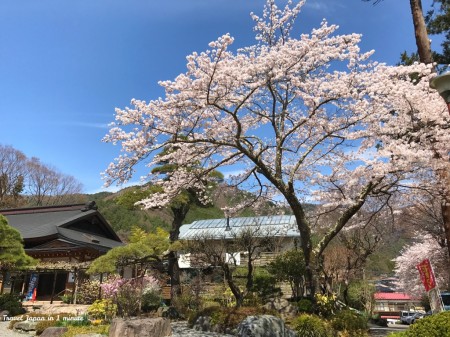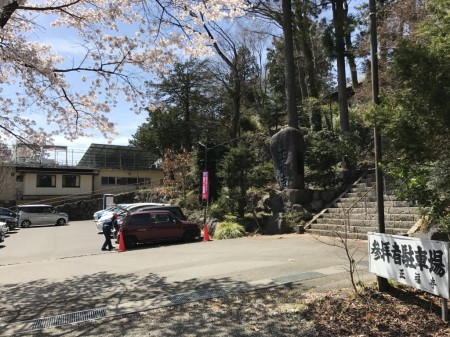 I arrived there at 8:00 but the parking lot of the park was already full.
But in the cherry blossom season, they have many temporary parking lots.
Parking lot in Shohukuji temple was one of them.
Some security guards led me here.
It took about 5 minutes from here to the entrance of Arakurayama Sengen park by walk.
The fee was 1000 yen per day.
Cherry blossoms of this place was also beautiful!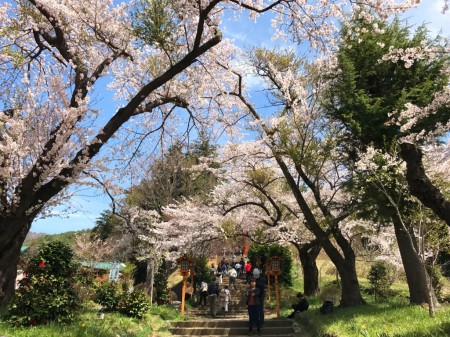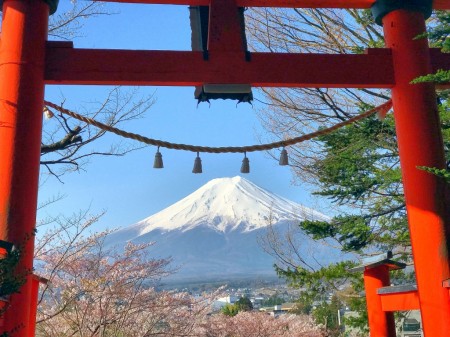 Cherry‐tree‐lined path lead to the Torii gate, the entrance of Arakurayama Sengen park.
The view of Mount Fuji was so beautiful!
They paint it red to increase the power of God and keep evil spirits away.
And the rope hung on top is called a sacred rope.
It shows that inside the Torii gate is a holy place .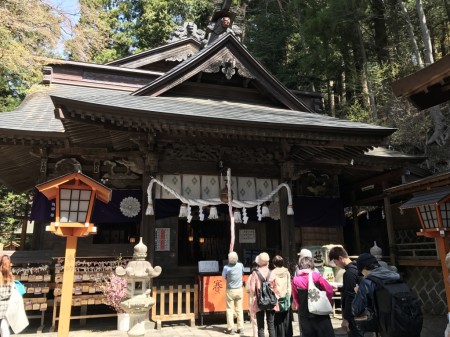 There was Arakurayama Sengen shrine near the Torii gate.
It was built in 705.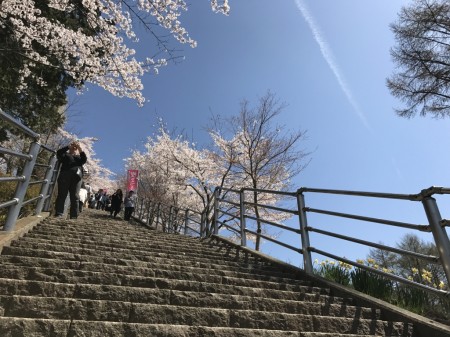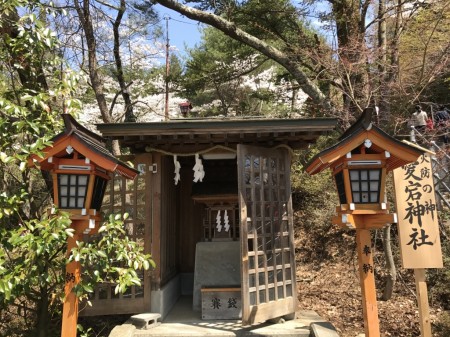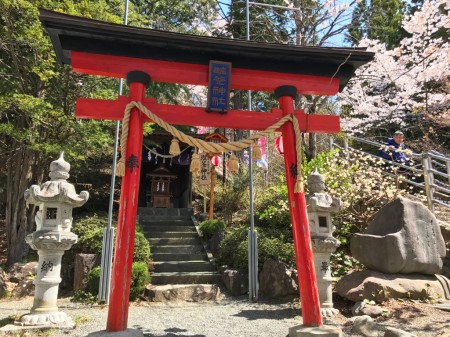 Observation deck is located on the top of this path of 398 steps.
There are Atago shrine and Shiogama shrine on the middle of the road.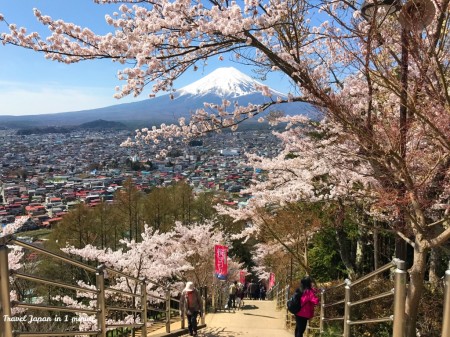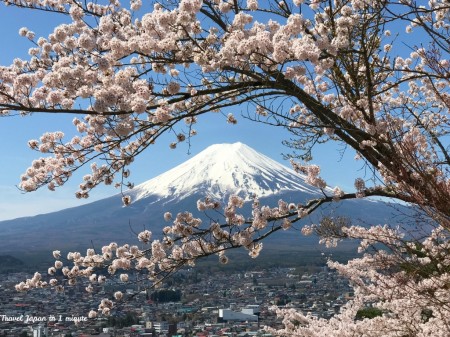 On top of the steps, I could see gorgeous view of Mt.Fuji and cherry blossoms!!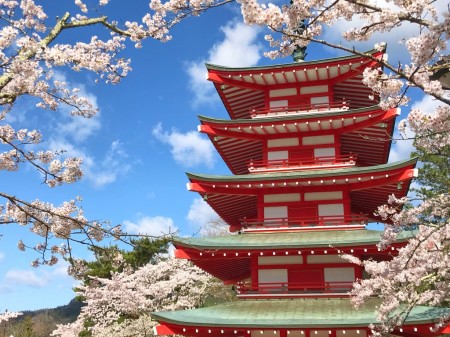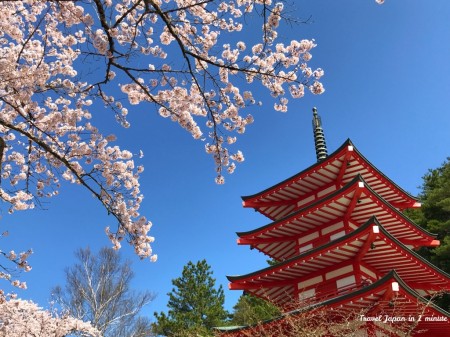 Then I turned around, there was the Chureito Pagoda.
It was built in 1963 as a peace memorial.
The scenery with cherry blossoms were so beautiful that I took many pictures.
In the back of this 5 story pagoda, there is observation deck.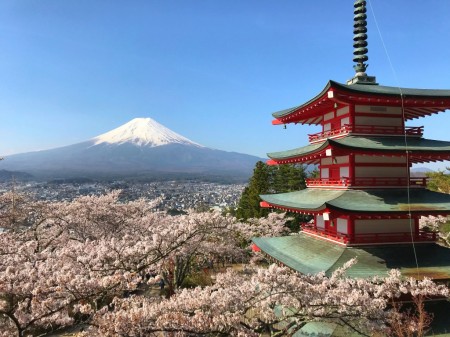 Gorgeous landscape from the observation deck.
Breathtaking view!
I've always wanted to see and take pictures of it!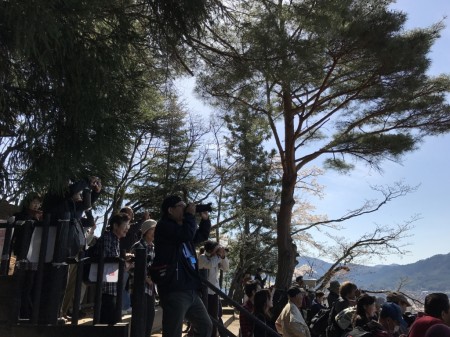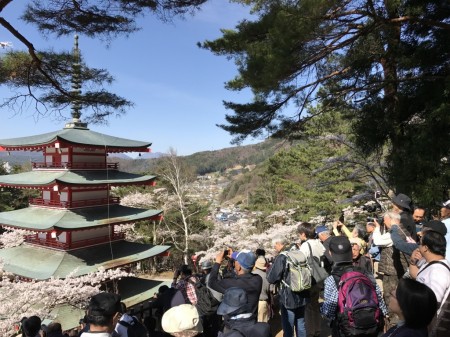 It was very crowded with people.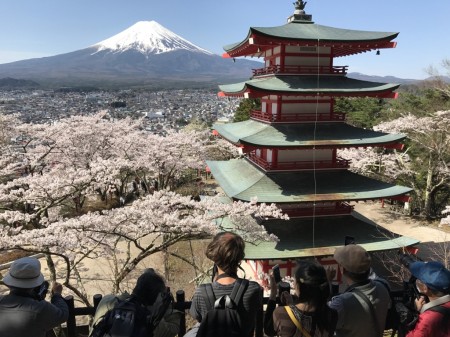 The front row was the most popular.
But I could take this place easier than I thought.
The use of tripods aren't allowed between 5:00 ~ 17:00 at the observation deck.
(Cherry blossoms season only.And you can use it at other places.)
So they didn't take long time to take photo in one spot.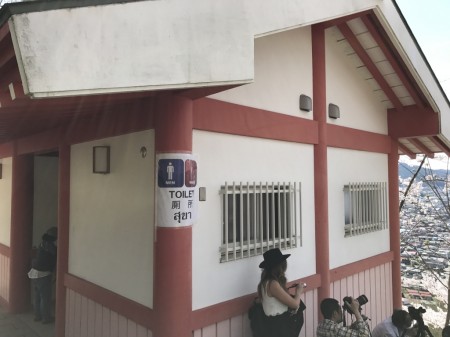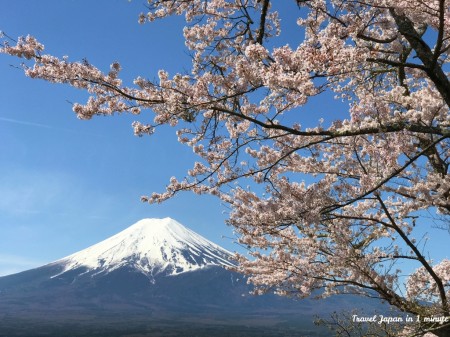 I could also take a beautiful picture of cherry blossoms with Mt.Fuji at the side of Public lavatory.
There were a lot of photo spots here and there!!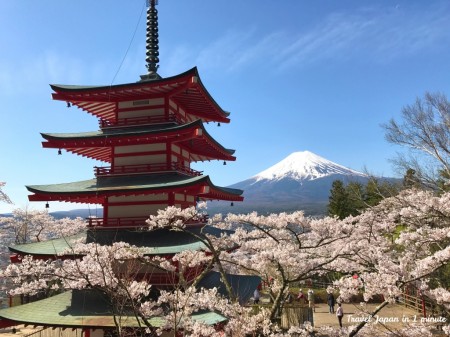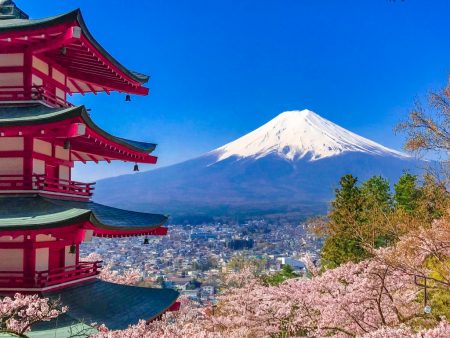 2.5 hours went by so fast.
I want to find another good photo spot next time I come here.
9 November 2017 – Autumn leaves

I went to Arakurayama Sengen Park to see how beautiful the autumn leaves were.
Trees around Torii gate beautifully turned to red!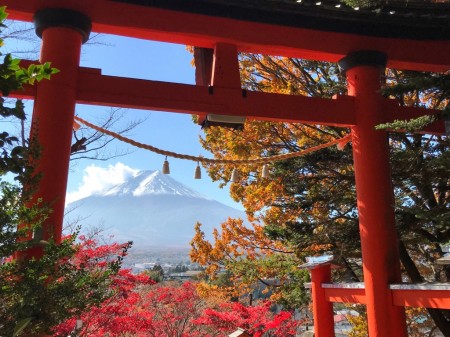 After going through the gate, I took a picture of Autumn foliage,Mt.Fuji and Torii gate.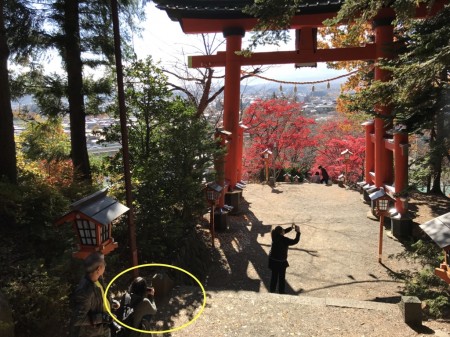 I took a picture at the yellow circle with 2 times zoom by iPhone7 Plus.
This is very popular photo spot.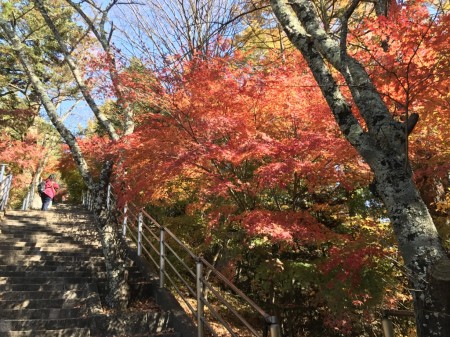 Fall leaves on the side of stairs were beautiful,too.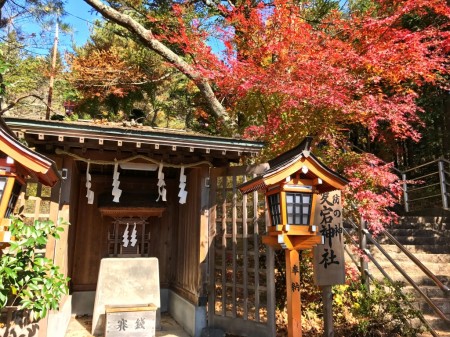 After going up the steps, there were Atago shrine with autumn leaves.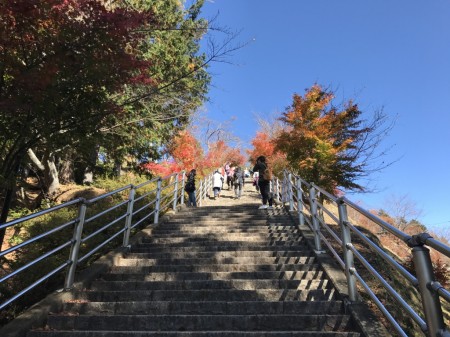 Then I went up the long stairs(398 steps)  on and on.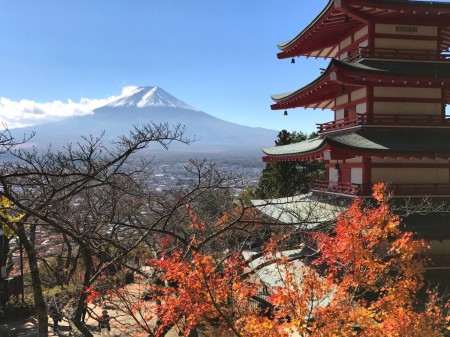 Then I reached at observation deck where you can take a beautiful picture of Mount Fuji and Chureito Pagoda.
There were a few autumn leaves around there.
So I put my iPhone in front of my foot and took a picture with 2 times zoom to make it beautiful as possible as I could.
I could some beautiful scenery today, but I felt that best time to come here is April when the cherry blossoms are fully bloomed.
20 April 2017 – Cherry blossoms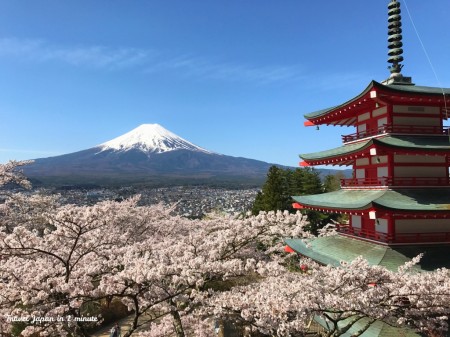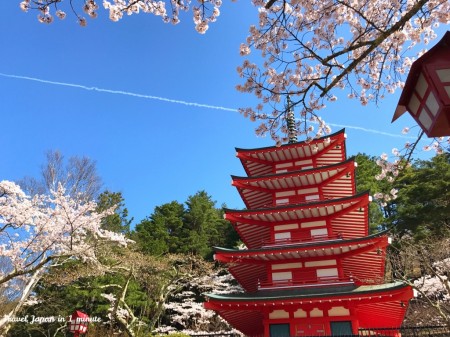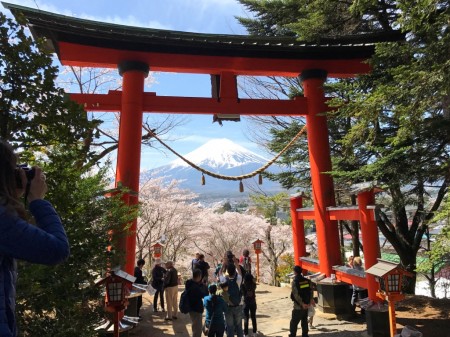 Information
Opening hour
Open at all times.
Open all year round.
Admission Fee
free
Access
By train
Shinjuku station in Tokyo → 1.5 hour by Chuo line → Otsuki Station → 40 minutes by Fuji Kyuko line → Shimo-Yoshida Station → 10 minutes walk
By Bus
Shinjuku Bus Terminal → 1 hour and 40 minutes by Fuji Kyuko Bus → Chuo-do Shimo Yoshida bus stop → 10 minutes walk
2 minutes walk from Chureito Iriguchi Bus Stop of World Heritage Loop Bus
3 minutes walk from Nyoraiji Iriguti Bus Stop of Town Sneaker Bus
By Car
15 minutes from Kawaguchiko IC, Chuo Expressway.
There is a parking lot for 120cars.
(Usually the fee is free, but in the cherry blossom season it costs 1000 yen per 1 day.)
When the cherry blossoms are best time to see,they have many temporary parking lots.
Other autumn leaves near Arakurayama Sengen park
Beautiful scenery in other season near Arakurayama Sengen park
コメント