View this post on Instagram

Kawaguchiko Herb Festival is held in Oishi Park at the shore of lake Kawaguchiko in Yamanashi prefecture every year.
This park is a home to wide variety of beautiful flowers in every season.
Between June and July you can see beautiful purple carpet of lavenders filled with the rich sweet perfume.
The best time to visit is the beginning of July when lavenders are fully bloomed.

June 25 in 2018
I arrived at Oishi Park at around 8:00.
More flowers have been bloomed than 3 days ago.
I took this picture where the lavenders beautifully bloomed with 2 times zoom by iPhone7 Plus.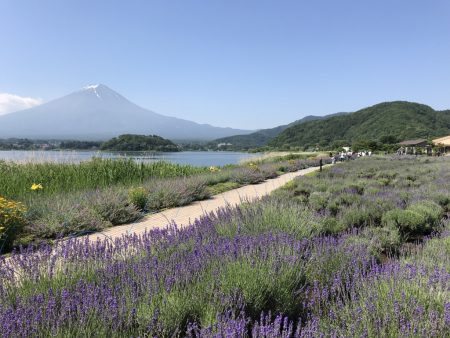 But still it wasn't fully bloomed.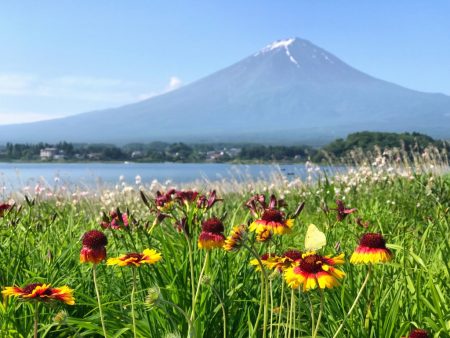 I found other many flowers along the path.
Blanket flowers with Mt.Fuji.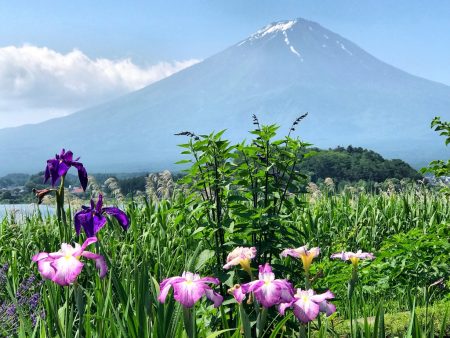 Iris and Mt.Fuji.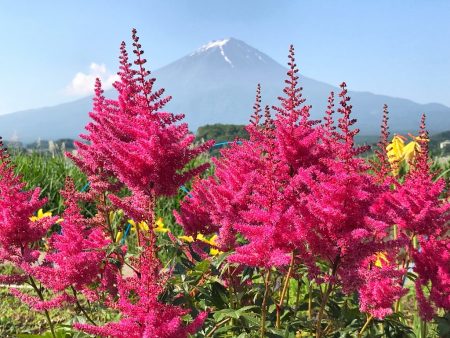 Astilbe and Mt.Fuji.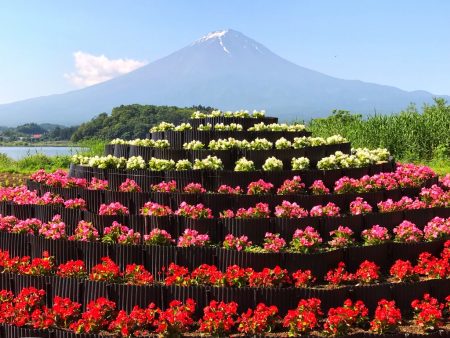 Begonia in a Mount Fuji shaped flower bed.
June 22 in 2018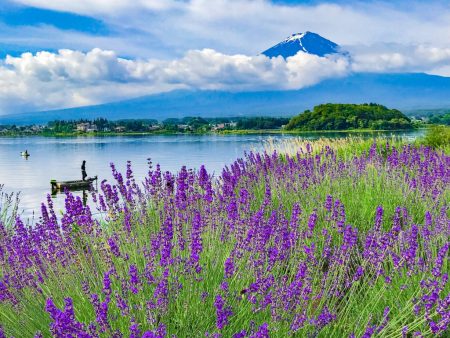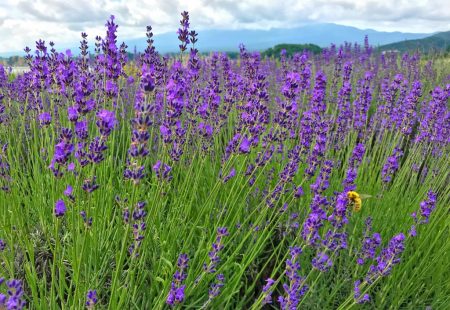 The best timing to shoot is early in the morning of the clear day because Mt.Fuji is often covered with clouds in the summer.
When I took this picture (with 3 times zoom by iPhone7 Plus) at 8:30, Fuji went behind the clouds 30 minutes later although it was cloudless in 6:00.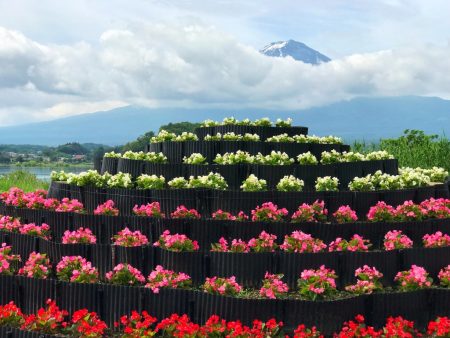 Mount Fuji shaped flower bed was beautifully decorated with Begonia.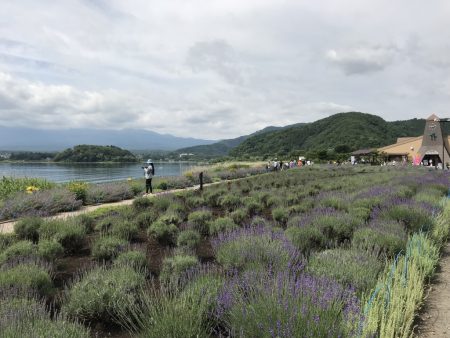 Lavenders weren't fully bloomed like this.
The best time to see will be between the beginning and mid of July.
July 15 – Best time to see in 2017
I went to Fujikawaguchiko Herb Festival when I could see Mount Fuji clearly.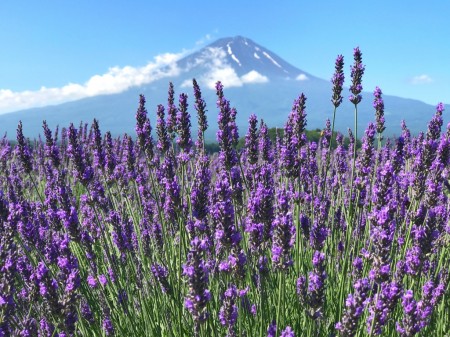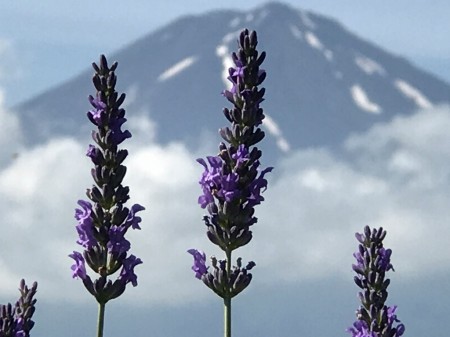 When I visited there, the peak of herbs were already past.
But still beautiful!!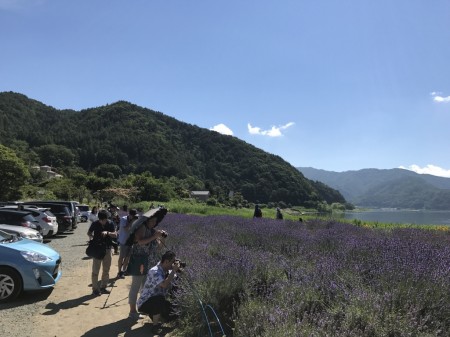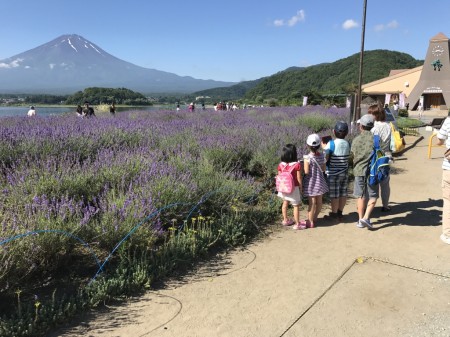 The best photo spot in here is in front of the free parking lot.
Because you can take a picture of Mt.Fuji,lavender fields and lake at the same time with the best composition.
This place is wide and anywhere is fine.
I chose the spot near the Kawaguchiko Shizen Seikatsukan.
Many tourist comes around 9:00 A.M. and it will makes you hard to take a beautiful picture.
Especially right after the sightseeing bus arrives, people rushes.
So you should finish shooting until that time.
And Mount Fuji is often covered with cloud after 9:00 AM in the summer.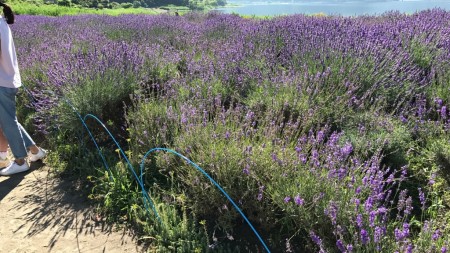 I stood in front of this blue fence.
Then I tapped the shutter button of iPhone with 1.7 ~ 2 times zoom.
I stretched my arm as possible as I could, to take lavenders clearly.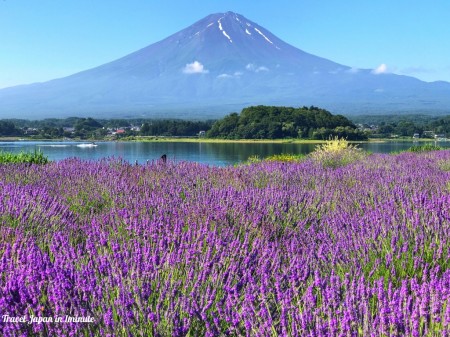 You can take a picture such like this.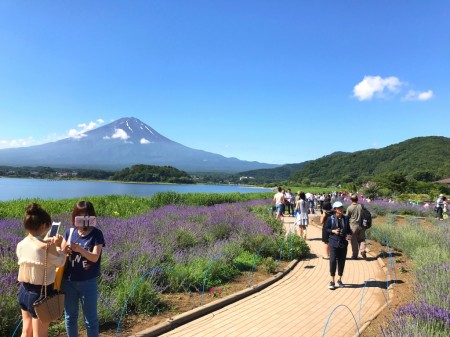 People enjoyed walking and taking pictures at the path in lavender fields.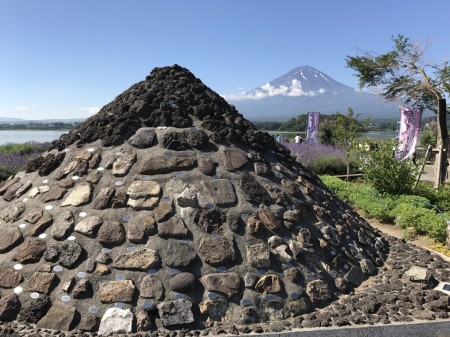 Miniature Mt.Fuji and real Mt.Fuji.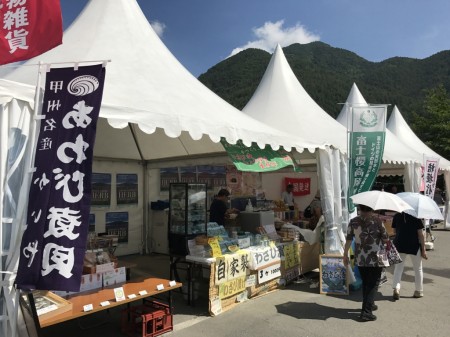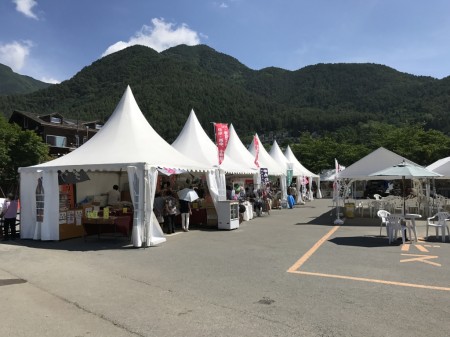 There were street stalls that sold local specialties and free rest area(first come first served) in the parking lot during the festival period.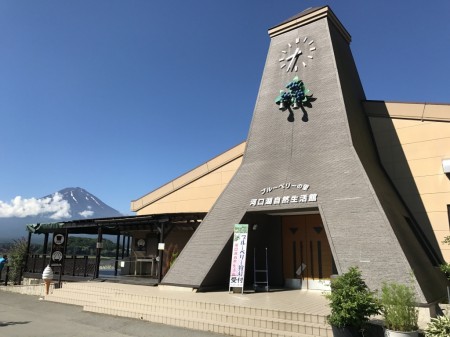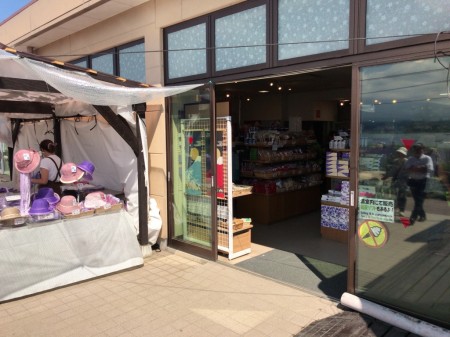 Kawaguchiko Shizen Seikatsukan.
They have restaurant,cafe and souvenir shop in it.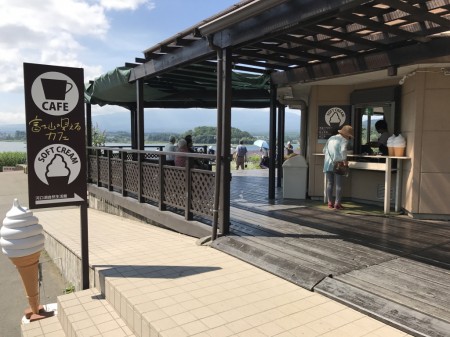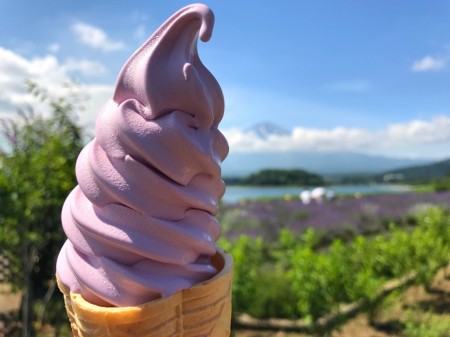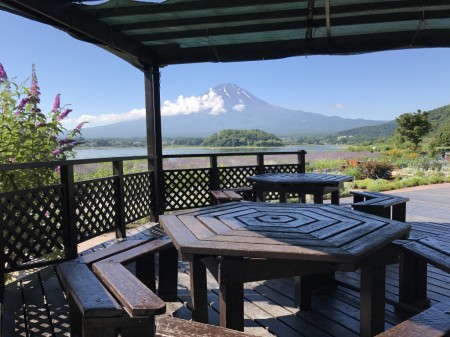 I bought the blue berry flavored soft serve ice cream at the counter then ate it in the free terrace seat.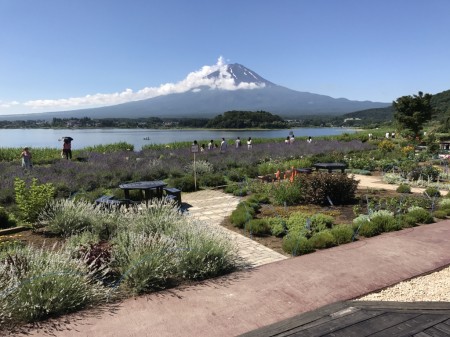 View from the terrace seat was so gorgeous!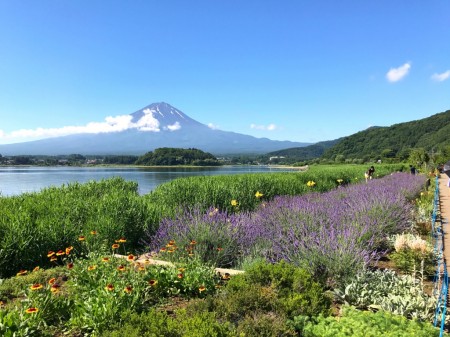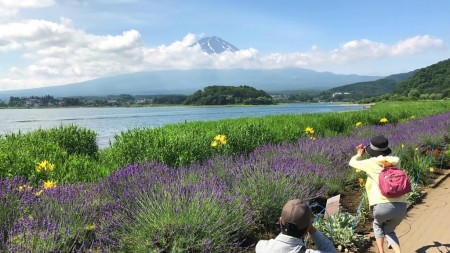 There was a nice photo spot at the end of the path.
Many people were taking pictures.
July 18 – Best time to see in 2016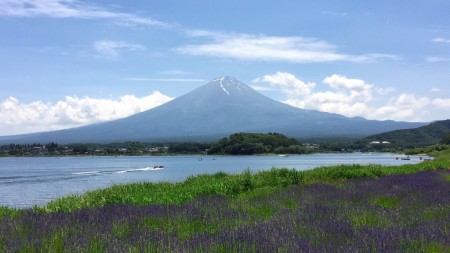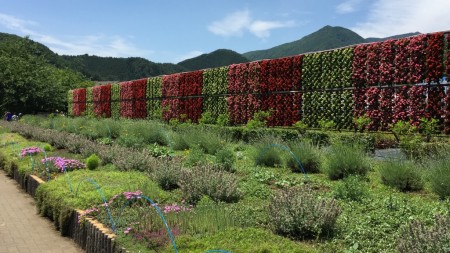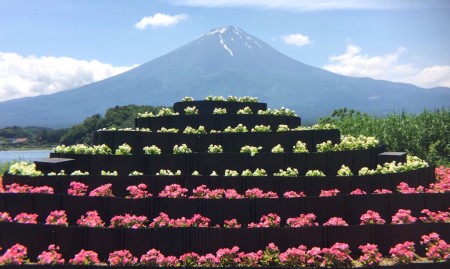 I went to Fujikawaguchiko Herb Festival.
It is held in Yagizaki Park & Oishi Park near the lake Kawaguchiko every year.
I went to Oishi park because I wanted to see the scenery with Mt.Fuji.
The flowers wasn't fully bloomed yet.
But the scenery with Mt.Fuji was so beautiful!
They have restaurants and souvenir shops,too.
Entrance and admission fee are free.
It will be held until July 20.
I went there by the car.
When I arrived at there, free parking lot was full.
But I could use the second free parking lot.
(The place in the map below)
If you use bus,take Kaiwaguchiko Sightseeing Bus "Red-Line" from Kawaguchiko Station to Kawaguchiko Natural Living Center bus stop.
Information
Festival period
15 June 2018 – 16 July 2018
Opening Hour
Officially 9:00~18:00.
If you want to see Mt.Fuji certainly,early morning in the sunny day is good.
Admission Fee
free
Access
Car
About 2h. from Tokyo via Chuo expressway.
They have free parking lot.
Train & bus
Shinjuku stn. → 1.5 hour by JR Chuo Line → Otsuki stn. → 1 hour by Fuji Kyuko Line → Kawaguchiko stn. → 30 minutes by Kaiwaguchiko Sightseeing Bus "Red-Line" → Kawaguchiko Natural Living Center Bus Stop→ 1 minute walk
Bus
Shinjuku Bus Terminal → 1 hour 45 minutes by Fuji Kyuko Bus → Kawaguchiko stn. → 30 minutes by Kaiwaguchiko Sightseeing Bus "Red-Line" → Kawaguchiko Natural Living Center Bus Stop→ 1 minute walk
コメント