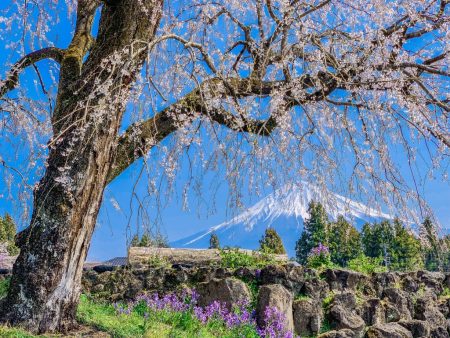 Mt.Fuji and a old tree of Shidare Zakura cherry blossoms at Jyokyo-ji temple in Fujinomiya city.
This city is located at the southwestern foot of Mt.Fuji.It has Fujinomiya trailhead that leads you to the summit of Fuji.
Jokyo-ji temple was founded in the 16th century and it is known as the cherry blossoms and Mt.Fuji viewing spot.
It was the first time to go there, so I was considering the compositon of the picture for a while.
Then one of a photographer at there kindly taught me the some good photo spot.
Thanks to the advice, I found that placement of a tree trunk is also important .
Information
Date of visit
28 March 2019 by iPhone Xs Max.
Best time to see
From late March to early April
Admission fee
free
Access
40 minutes by bus from Fujinomiya station → 20 minutes walk from Shimojo bus stop
コメント