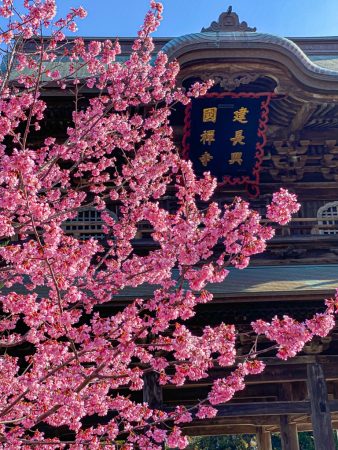 Kencho-ji temple was built in 1253 when Kamakura was the capital of Japan.
Okame Zakura, early flowering variety of the cherry tree is beautifully bloomed in early spring in front of Sanmon ( a main gate ) which is an important cultural property.
The six Kanji characters on top of the gate represent the official name of this temple.
These are said to have been written by Japan's 89th emperor.
In April we will be able to see Somei Yoshino, the most famous species of the cherry tree in the same place.
This photo was taken on 1 March 2020 by 2 times zoom of iPhone11ProMax.
Information
The best time to see Okame Zakura
Between late February and early March.
Admission fee
500 yen.
Opening hour
8:30~16:30
Access
15 minutes walk from Kita Kamakura station ( 1.5 hour from Tokyo )
コメント