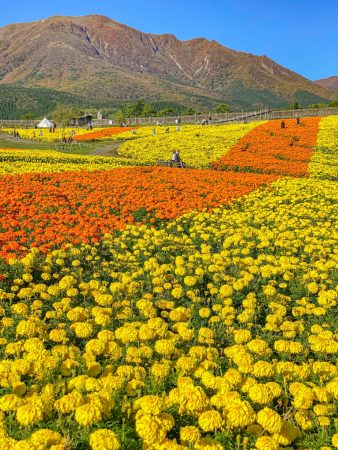 Colorful marigold field in Kuju Flower Park in Oita prefecture.
It is located at an altitude of 850 meters above sea level in Aso National Park, where you can fully enjoy beautiful nature with the mountains in the background.
About 5 million flowers of 500 species bloom in the park from spring to autumn.
This place on the edge of the marigold field was one of the most beautiful photo spots.
The stripes of yellow and orange were gorgeous.
This photo was taken on 25 October 2020 by 2 times zoom of iPhone11ProMax.
Informations
The best time to see marigolds
Between the mid of September and mid of November.
Admission fee
1300 yen.
Opening hour
8:30 – 17:30
Access
About an hour by car from Oita city.
コメント