Kawazu Zakura, the early-blooming cherry trees in Kawazu city.
A lot of tourists visit here because it is the earliest opportunity in the year to see many cherry blossoms near Tokyo.
Rows of cherry trees line up approximately 4 kilometers along the river.
Recently you can see Kawazu sakura in many places in Japan,but the origin is Kawazu town.
27 February 2019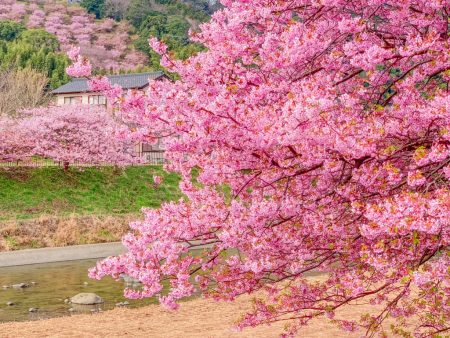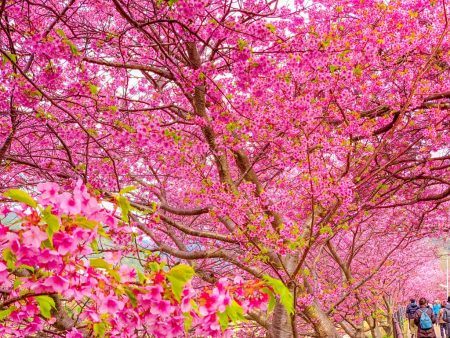 Cherry blossoms started scattering a little, still it was best time to see!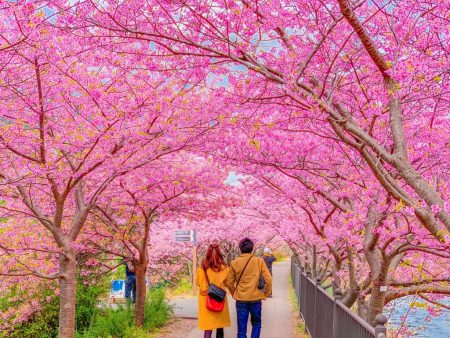 When I was about to take picture of a tunnel of cherry trees, these two persons passed by at the perfect timing.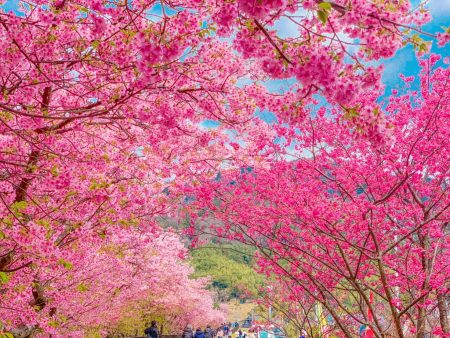 I found a tunnel of cherry blossoms ( on the left ) and peach blossoms ( on the right ).
Both flowers are very similar, the difference is the shape of the petals.
The tip of the cherry blossoms are cracked, and the one of the peach blossoms are sharp.
2 March 2018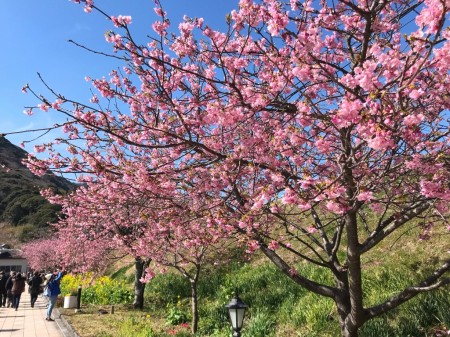 Cherry blossoms along the street near the Kawazu station.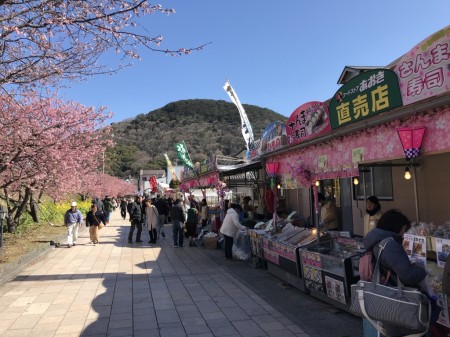 There were also many souvenir shops along the road.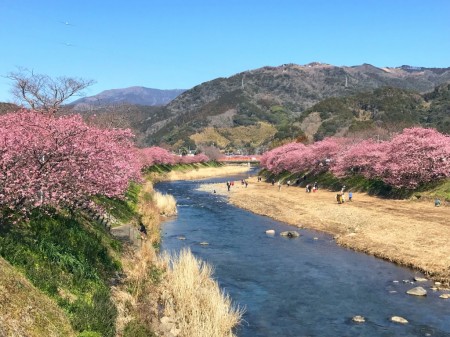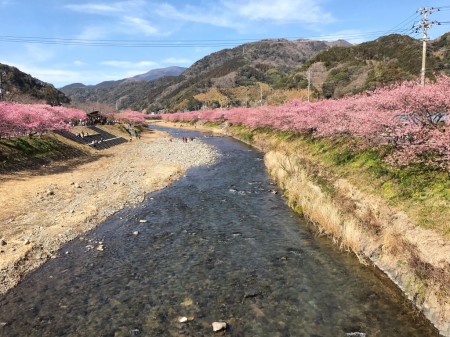 The street leads you to the river.
A promenade stretch for about 4km along the Kawazu River.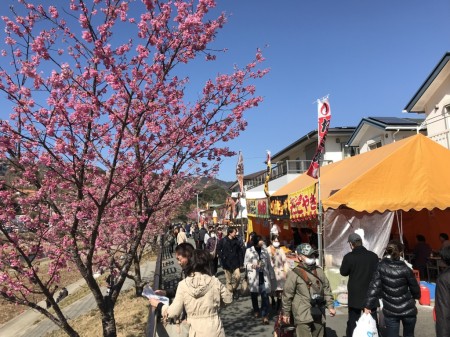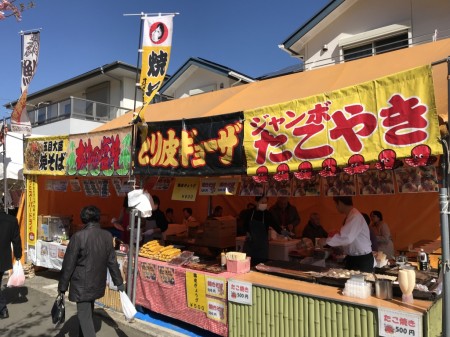 There were many open-air stalls as well as cherry trees along the riverside street.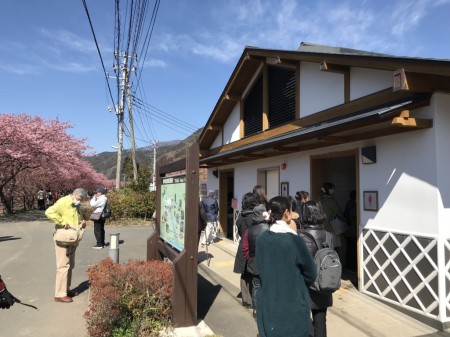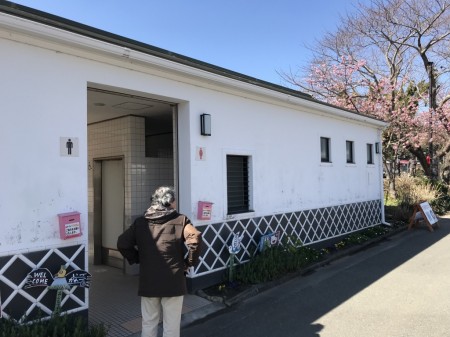 They have many public lavatory.
I think it increases for the past few years.
But especially the lady's toilet was crowded as more and more tourist came.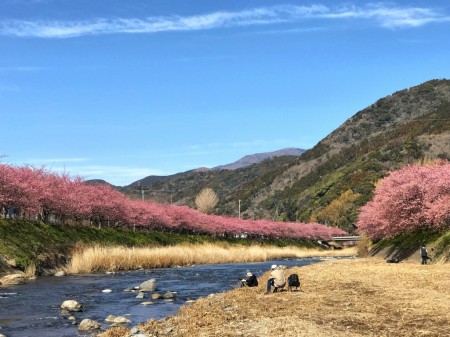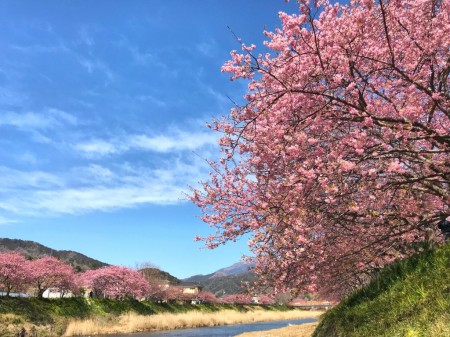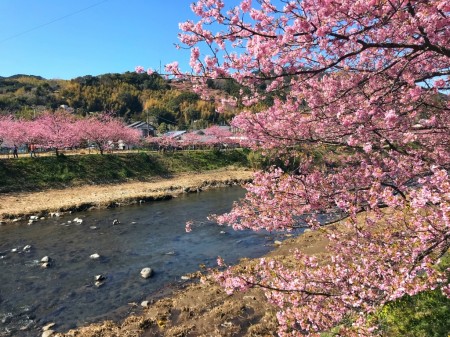 Cherry blossoms along the river was so beautiful.
Especially the place where you can take pictures of cherry blossoms with canola flowers was very popular.
There were a few place that the field mustard was flowering.
Maybe it's because the cherry blossom season was later than usual.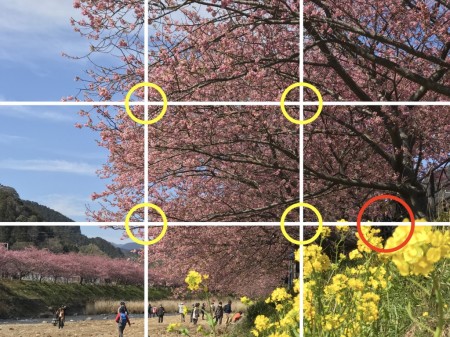 I considered the composition based on the grid lines when I took this picture.
(Settings → Photos & Camera → Grid)
Put the cherry trees on intersection points(yellow circle) as the lead, then put the field mustard in the red circle as supporting role.
I retouched a picture by the application of iPhone Enlight.
4 March 2014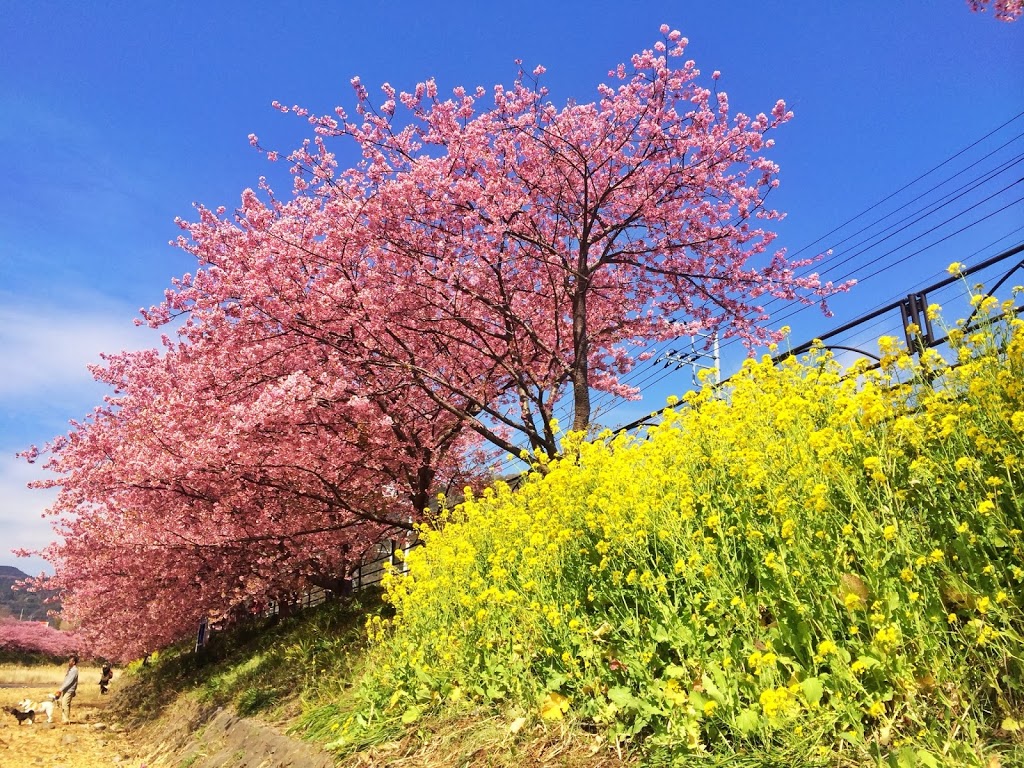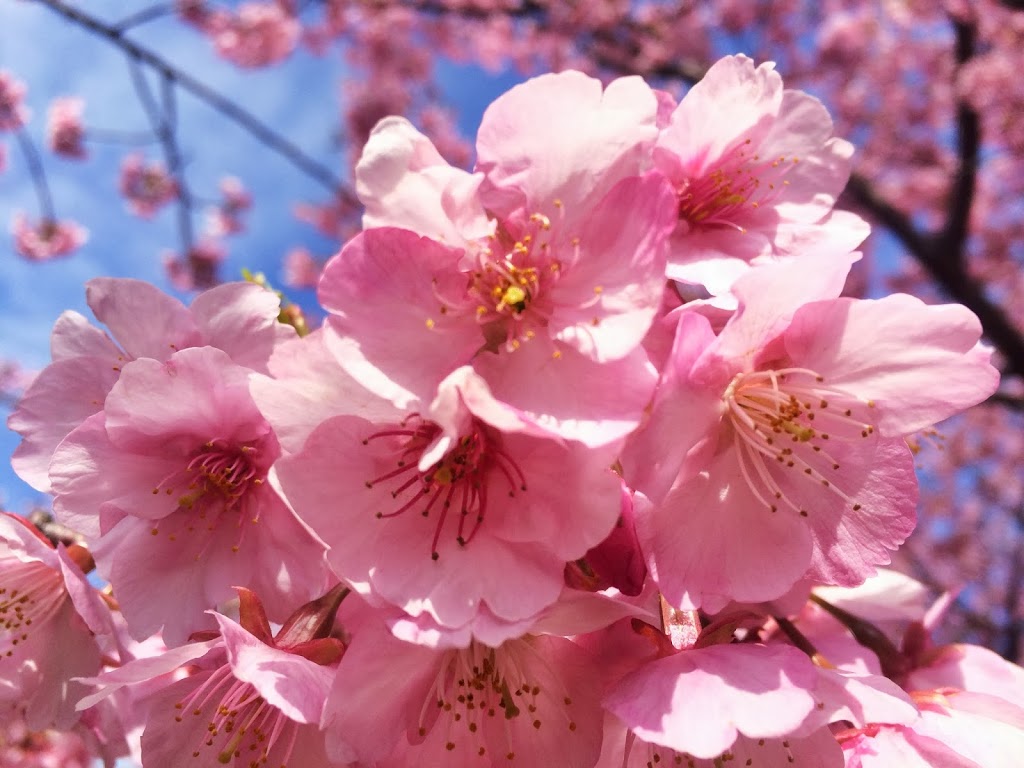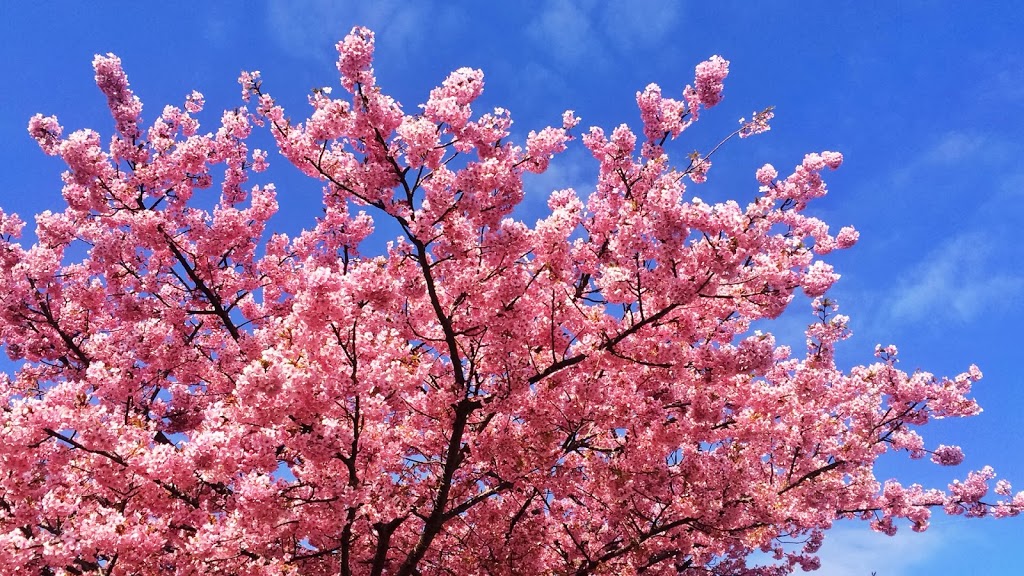 You can go there by car or train.
It takes about 2hour or 2.5hour by train, 3hour or 3.5hour by the car.
The traffic is very bad while cherry trees are blooming.
So if you go there by the car, you should choose weekday and wake up very early.
You can use the parking lot.
You will be able to find it at here and there in the town.
The parking fee is same, 500 Japanese yen.
If you go by train, of course there is no traffic jam.
But many people got on it.
So anyway you should go there as early as possible.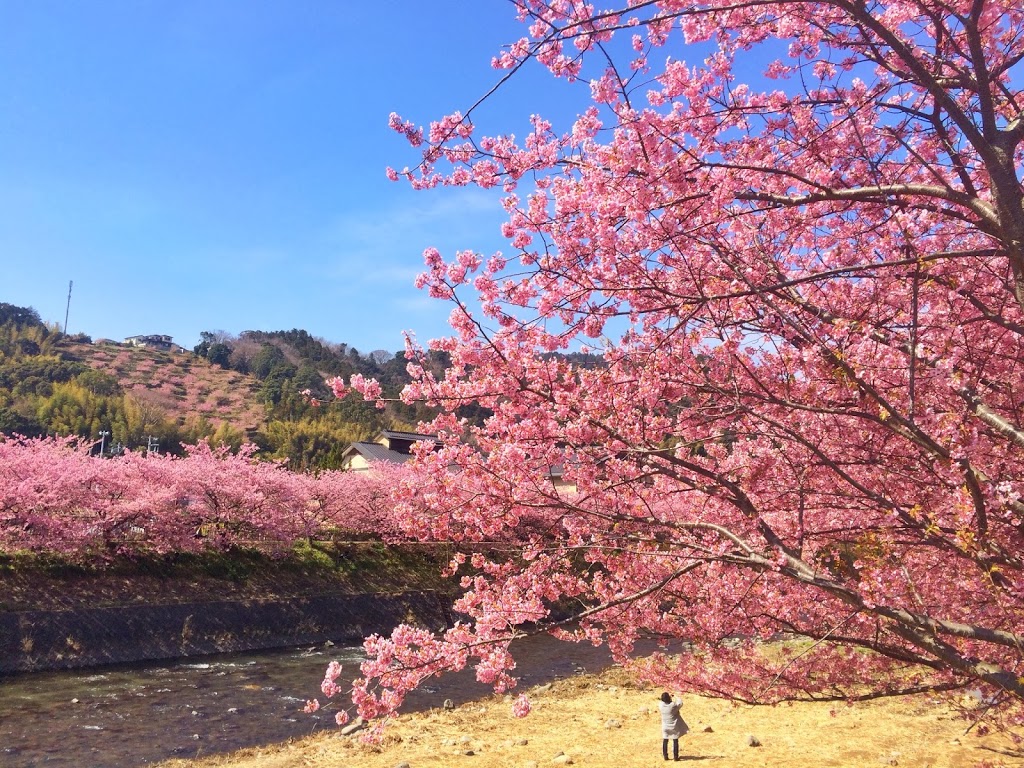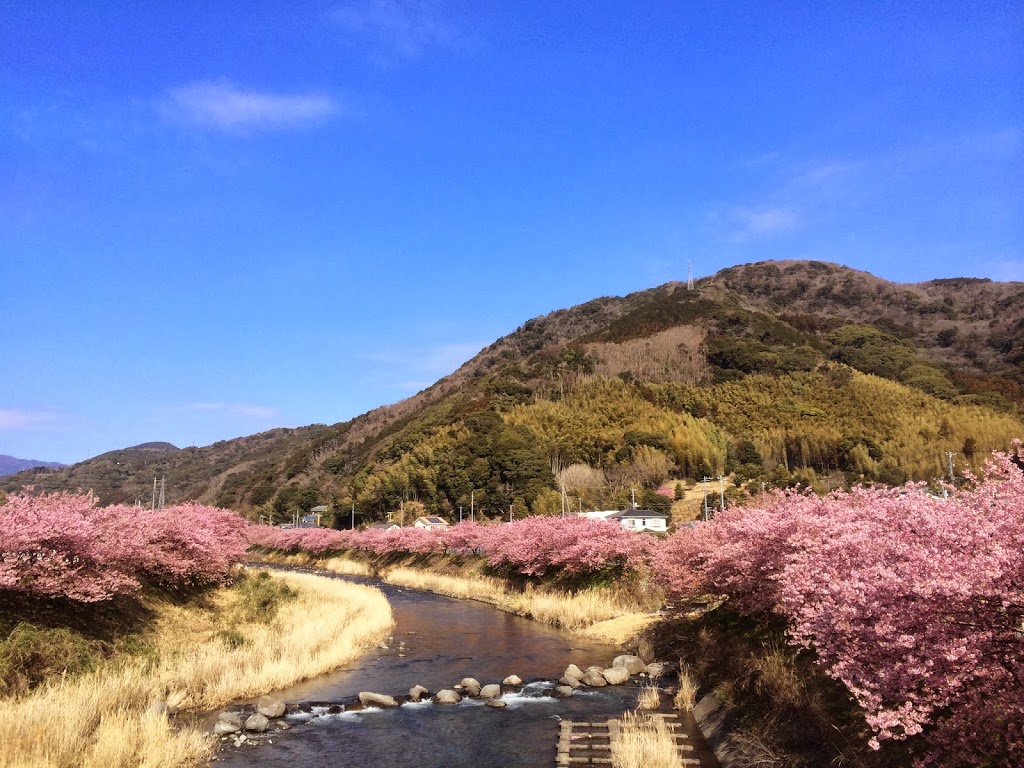 You can see so many cherry trees along the river with walking.
When I went there, trees looks more beautiful as I walked toward the upstream.
There are a few people compare to the downstream,so I could see cherry trees quietly.
Information
The best time to see
Between the mid of February and the beginning of March
Admission fee
Free
Access
5 minutes walk from Kawazu Station
コメント