■

Date Visited

■

9:30 – 14:30 of 20 November 2016
Photos and video were taken by iPhone.

Yushin Valley is a scenic hidden spot along the Kurokuragawa River.
Especially in the fall, you can see the beautiful scenery of autumn leaves and emerald green or cobalt blue water.
The color of the water changes depends on the day and hour.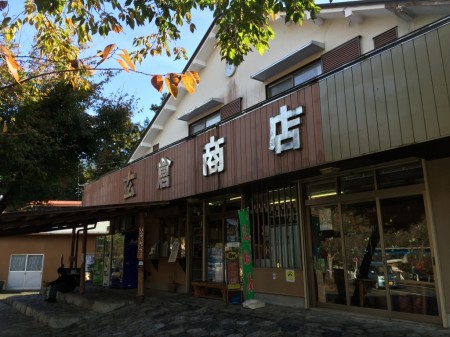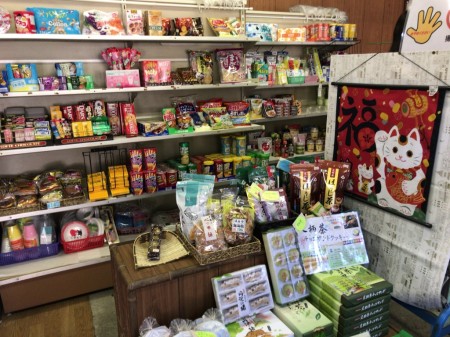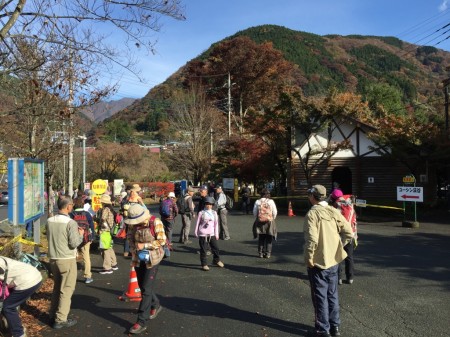 9:55 A.M.
It is Kurokura Shoten that sells snacks,drinks and souvenirs.
A gateway of the hiking trail.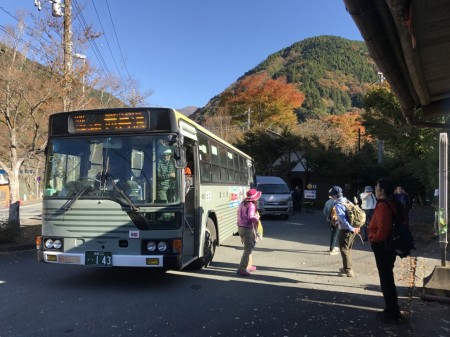 There was a bus stop in front of this shop.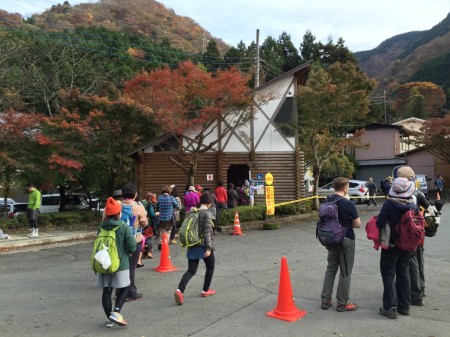 They have also public lavatory.
But especially the one for ladies were so crowded.
They made a very long queues.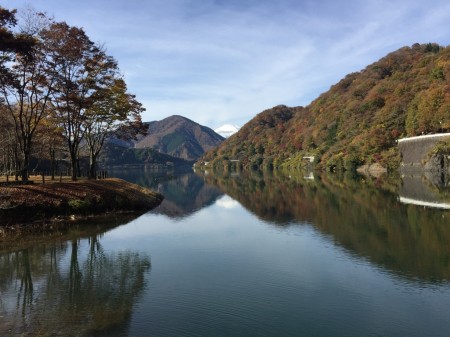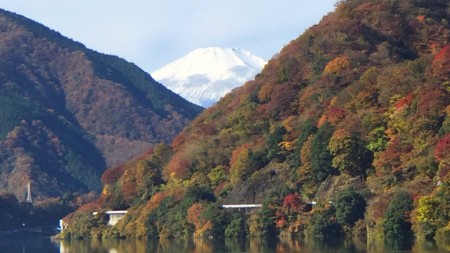 10:00 A.M.
I took the picture of Mt.Fuji and lake Tanzawako at the edge of a parking lot.
This is the best photo spot in the lakeside.
It was across the Kurokura shoten.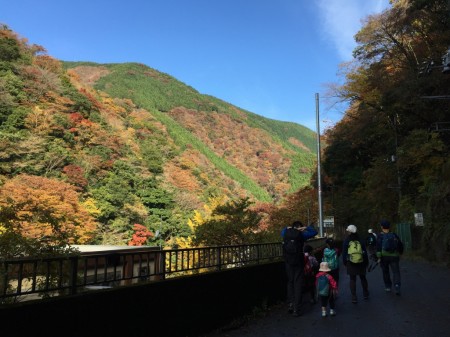 I was surprised to see many families with little kids(including toddling child).
Because there were no steep slopes or steps on the way to Yuchin valley.
So it was easy for them to walk toward the destination by taking a rest frequently.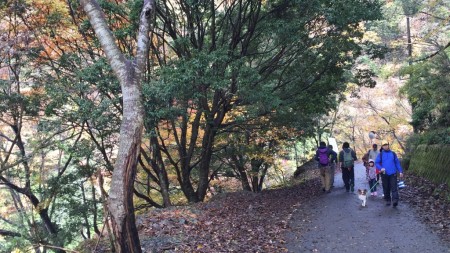 I also saw people with pets.
I brought a paper map because I couldn't use Google Map as it was out of signal area.
But I didn't need it because all I had to do was follow them.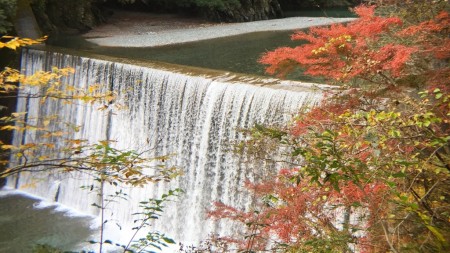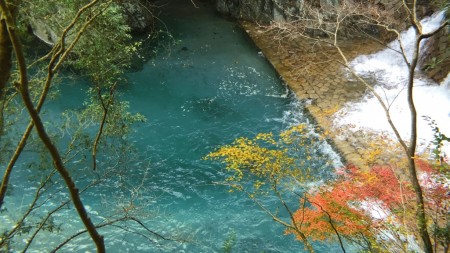 10:20 A.M.
There was a very beautiful waterfall with fall leaves near the lake Tanazawako.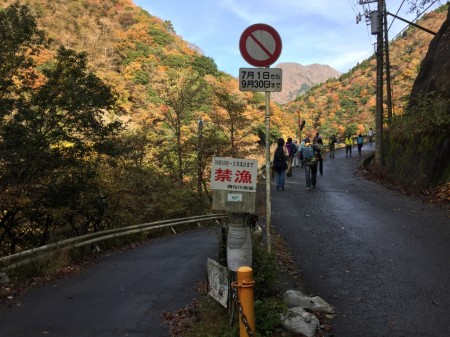 10:34 A.M.
There were some branch road.
But I didn't have to worry about it, as people went to the same way.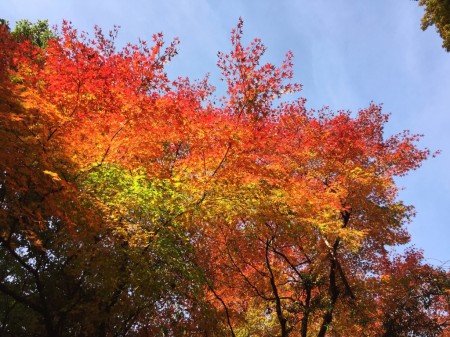 10:36 A.M.
As I moved ahead , there was very beautiful autumn leaves.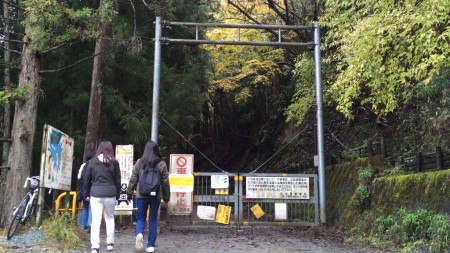 10:46 A.M.
This is a gateway to Yushin valley.
Cars are prohibited to enter it.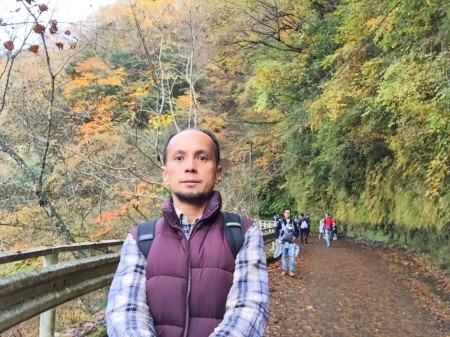 I took my selfie at a little further of the gateway.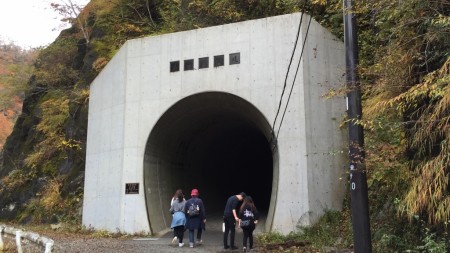 11:23 A.M.
Shin Aozare Zuido tunnel.
The most longest tunnel in Yushin vally.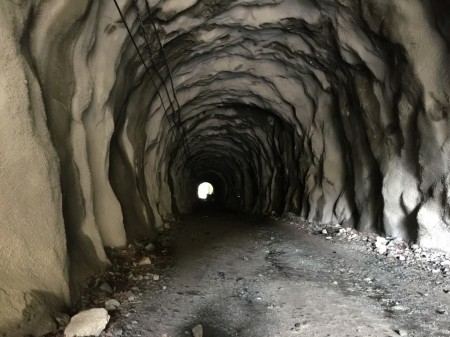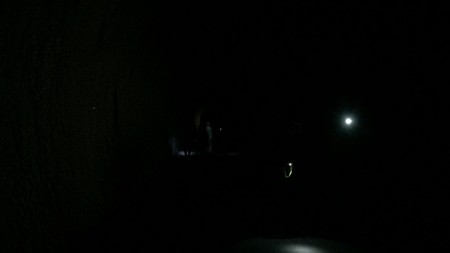 There weren't any light at all inside, so it became completely dark as I turned my flashlight off.
But all the people in the tunnel  used their own flashlight, so somehow I could secure my visibility without my light.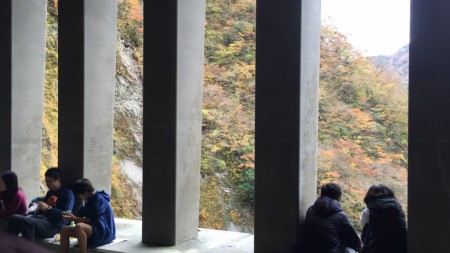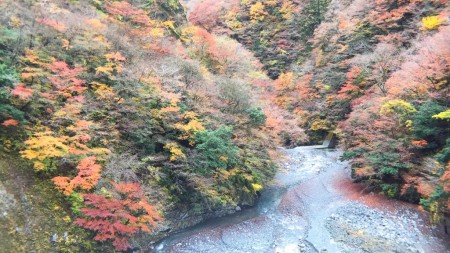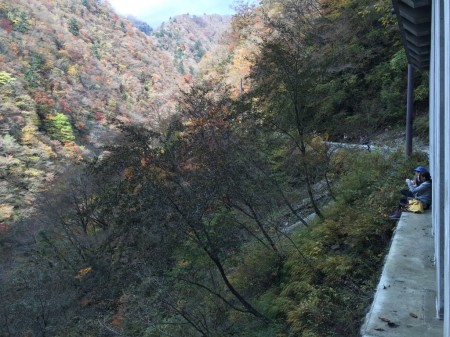 11:32 A.M.
There was a scenic spot of autumn leaves after I went through the tunnel.
Many people had lunch or took a rest at here.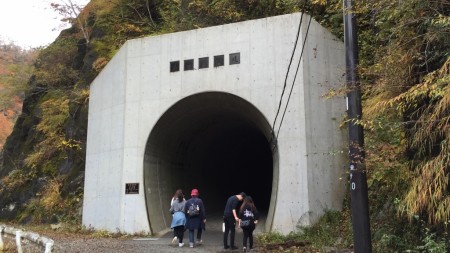 11:34 A.M.
As I went on walking , I reached at Ishikuzure Zuido tunnel.
It it the last tunnel.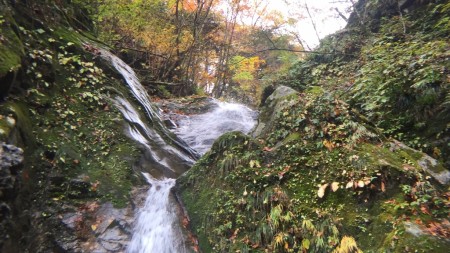 Then I came out of the tunnel , there is a river with clear water.
The sound of stream- flow was so nice,  too!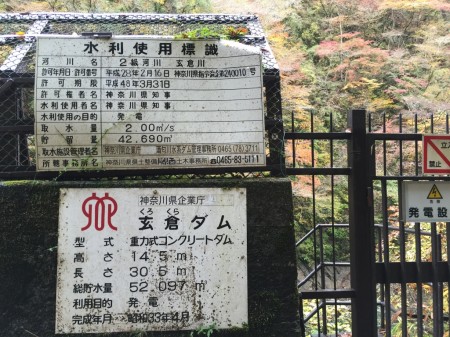 If you see this signboard of Kurokura Dam, it means Yushin Valley is very close.
11:58 A.M.
Finally I reached at Yushin Valley.
According to the local, the color of the water changes depend on the weather and  depth of the water.
You can see cobalt blue water when the waters run deep in the sunny day.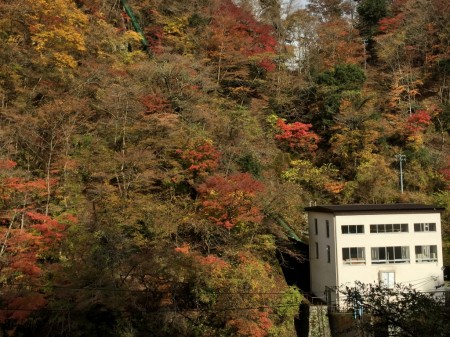 0:16 P.M.
I moved ahead  a little further.
The building of Kurokura second porwer plant.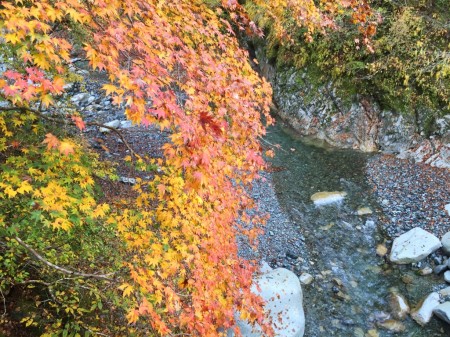 0:25 P.M.
I could see the beautiful autumn leaves from the bridge at a little further of a Kurokura porwer plant.
It took about 2.5 hour from the lake Tanzawa to here.
It was a long walk, but I could refresh myself by the nature because there was no steep slopes or steps.
Yushin Valley is an attractive hiking opportunities.
---
■

Information
【Access】
By train
Shinjuku station in Tokyo → 1.5 hour by Odakyu Line → Shin-Matsuda station → 45 min by bus bound for Nishi Tanzawa Visitor Center → Kurokura Bus Stop → 2.5 hour walk
By car
There were some free parking lots.
Especially in holiday in the autumn, they will become full around 8:30.
コメント