Hitachi Seaside Park(Kaihin Koen) in Ibaraki prefecture is famous for its amazing , instagram worthy scenery of 4.5 million blue nemophila field on the hill.
This 200 hectares huge park is a home to a variety of colorful flowers 💐 throughout the four seasons.

23 April 2019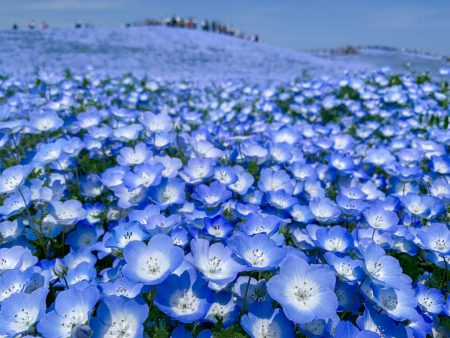 This day was the last chance to see this amazing scenery in the clear day before the Japanese long vacation "Golden Week".
It is a collection of public holidays of the Japanese calendar and this park is very crowded in this period ( I hate crowds! ).
Official website said that nemophila flowers weren't fully bloomed until the day before that day, so I didn't expect to be able see the perfect scenery.
But the announcement changed to "Best time to see" in the morning of that day.
I was so lucky!
But unfortunately I caught a cold…
Although my condition wasn't good, I did my best to shoot this scenery as beautiful as possible.
To take this picture, I got down on all fours, put my iPhoneXsMax closer to the flowers and shot it by 1.5 times zoom to avoid blurry.
20 April 2018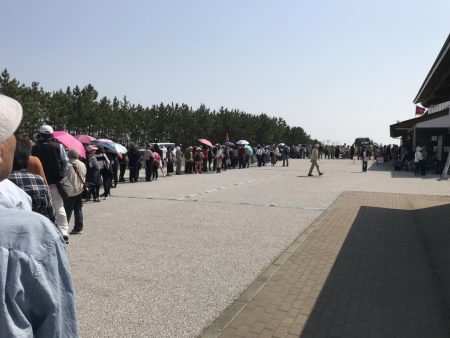 I arrived at the Sea breeze Entrance at 9:15.
It was 15 minutes earlier of the opening time, but people made a long line in front of the entrance gate.
When the popular flowers such as Nemophila are fully bloomed, it is very crowded from morning.
Sea breeze Entrance is the most nearest to Miharashi Hill where you can see the nemophila field among the 4 gates in this park.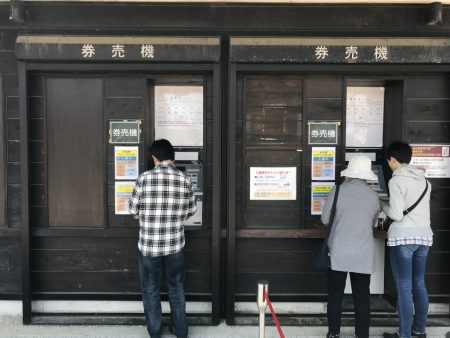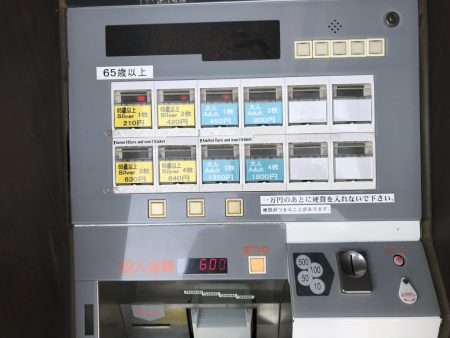 I got in the line after buying a ticket at the auto vending machine(English is available partially) at the entrance.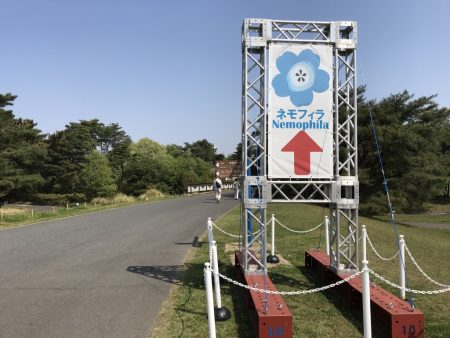 There are many big signboards that leads you to the Nemophila field.
So you can easily go ahead.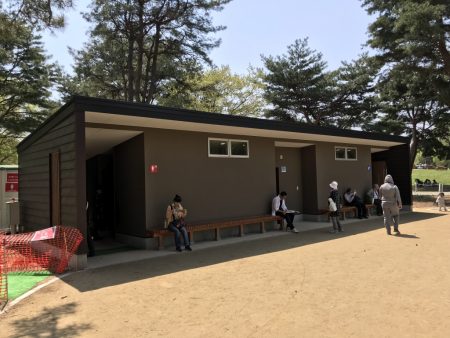 There is a public lavatory on the way to Miharashi Hill(nemophila field).
They have many ones in the park.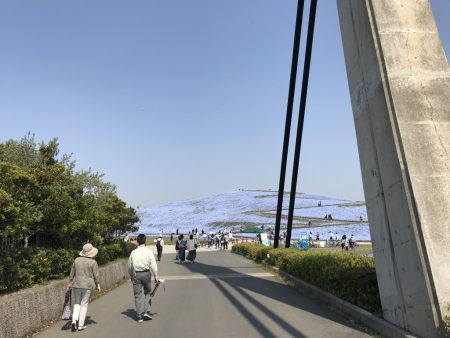 Then I walked further, I could see the nemophila field in the distance.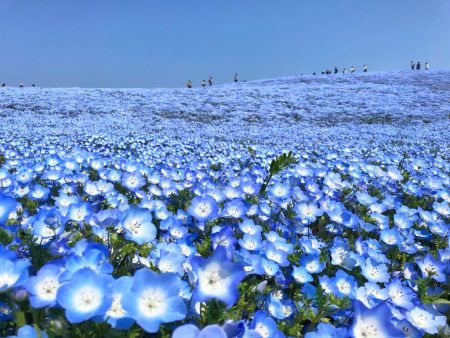 Finally I reached at the fully bloomed nemophila field.
What a heavenly scenery!
Comments by the people who saw this picture in my Instagram
– It's not the sea. it's a whole ocean of flowers!
– Take me to there
– Looks like water drop.
– Heaven and earth united by a tapestry of flowers!
– Can you imagine you and me there?
– Let's take a ticket to Japan
– My mission is to bury me here
– Paradise in the ground
– This looks like a scene of Japanese animation "Ancient Magus Bride"
– Fusion between heaven and earth !!!
– Sky has fallen on earth
– Competing with the vast sky, flowers you have touched the heaven.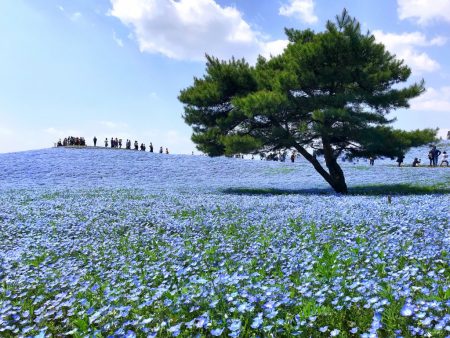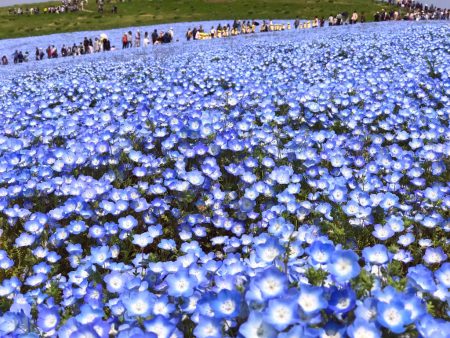 Miharashi Hill was filled with nemophila flowers.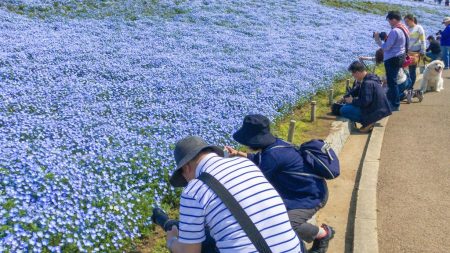 To take a beautiful picture, you should shoot like these people.
Sit down and put your camera or smartphone closer to the flowers.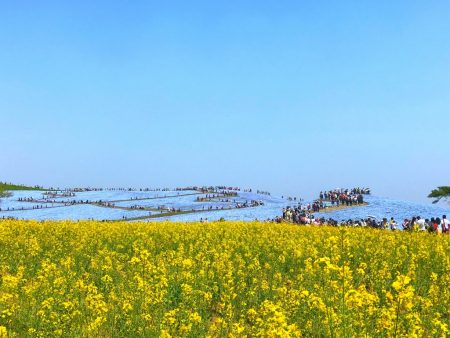 Canola flowers and nemophila.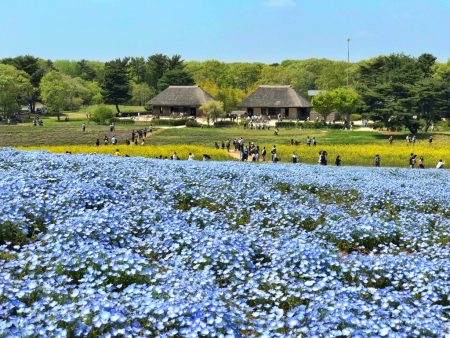 Restored traditional Japanese houses and nemophila flowers.
These buildings were originally built in 18th century and relocated to this place in 2010.
It is one of the most oldest houses in eastern Japan.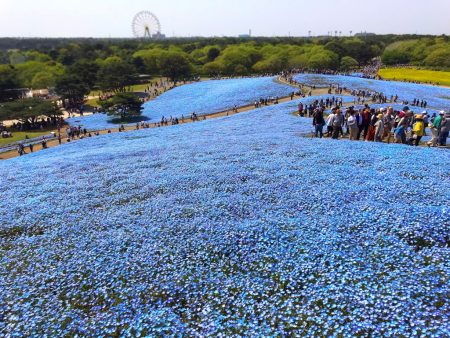 The view from top of the Miharashi hill.
There is an amusement park that has 28 attractions including a giant wheel in the Pleasure Garden Area.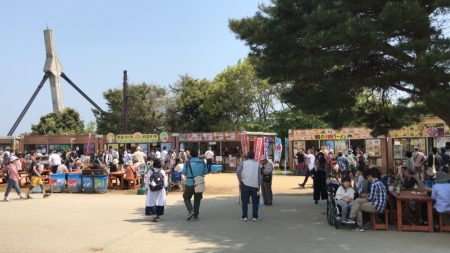 They have some free rest area with food stalls.
Information
Admission fee
Adults : 450 yen
Children : free
Opening hour
9:30–17:00 (march 1st – july 20th・september 1st – october 31th)
9:30–18:00 (July 21th – August 31th)
9:30–16:30 (November 1st – end of February)
Closed on every week Monday
Access
Train
Tokyo Station → 1.5 hour by limited express → Katsuta Station → 20 minutes by bus bound for Kaihin Koen Minamiguchi → Kaihin Koen Nishiguchi Bus Stop→ 1 minute walk
Express bus
Tokyo Station → 2hour by Express Bus → Kaihin Koen Nishiguchi Bus Stop → 1 minute walk
car
A few minutes from Hitachi Keihin Koen IC of Hitachinaka Toll Road
コメント