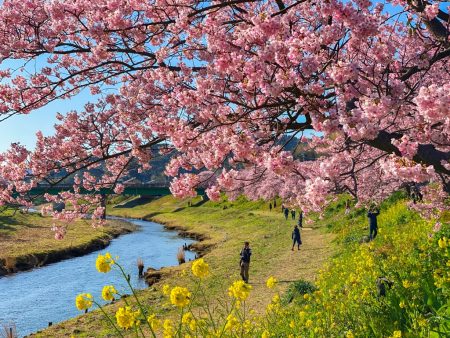 Minami Izu town is a warm place that located at the south of the Izu Peninsula near Tokyo.
So you can see the early flowering variety of cherry tree "Kawazu Zakura" in February every year.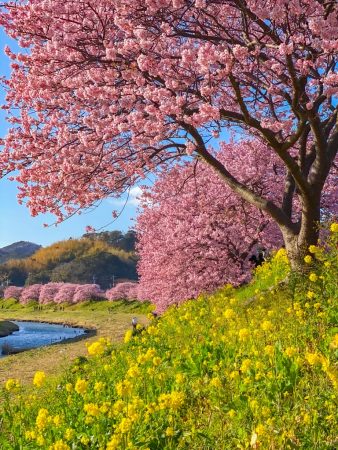 800 of cherry blossoms bloom on both sides of the Aono river which flows through the center of the quiet hot spring town.
The collaboration of pink, yellow and blue is amazingly beautiful!
I paid attention to the ratio of cherry blossoms and canola flowers when I took this photo.
I took this photo by 2x zoom of iPhone11ProMax.
By the way, near here there is Kawazu town that is more famous place as Kawazu Zakura viewing place.
But Kawazu town is much crowded, so if you don't like crowds Minami Izu town is highly recommended as it is much more relaxed.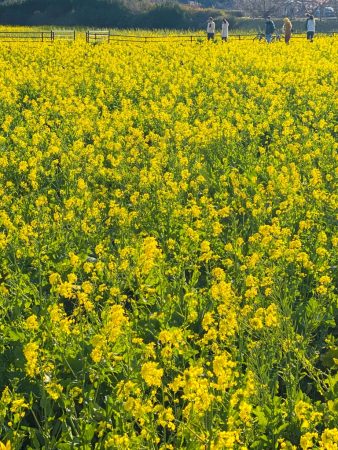 About 20 minutes walk along the river leads you to the canola flower field.
The yellow carpet was spreading on the field as far as one could see.
This place is called "Genki na hyakusho tachi no nanohana batake" in Japanese.
It means the canola flower field by the energetic peasants.
They grow the flowers in the fallow field in winter and summer.
About 3 hectares field was filled with yellow carpet of the flowers.
Informations
The best time to see cherry blossoms : Between the mid and end of February.
Admission fee : free.
Access : 20 minutes by bus from Izukyu Shimoda Station.
コメント