Meigetsuin Temple was founded at 1160 in Kamakura.
It is popular as hydrangea temple because hydrangeas bloom in abundance on the temple grounds in June.
Kamakura is a old Japan's capital where you can go within an hour from Tokyo by train 🚞 .
In June they have many temples that are specially known for the beautiful scenery of hydrangea.
Meigetsuin temple is one of the most famous place as hydrangea viewing place.

What to see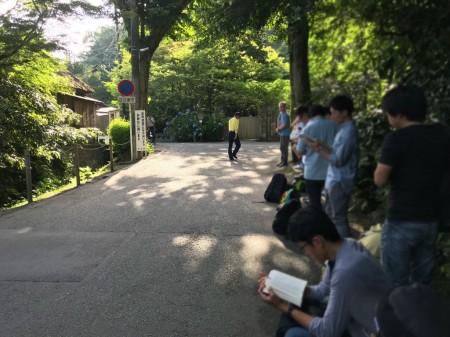 I arrived at entrance of Meigetsuin Temple at 7:00, 1.5 hour before the opening time.
To take beautiful picture at the best photo spot without putting anyone in the photo, I had to go there very early and stood in the line.
I expected I could line at 4th or 5th, but there were already more than 10 people.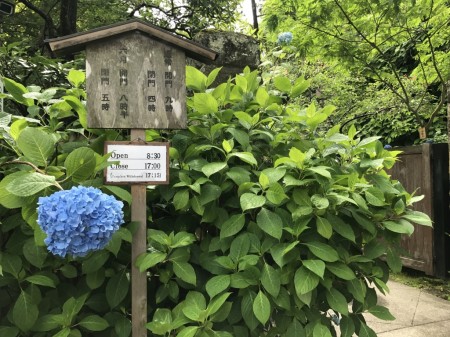 This is an entrance of this temple.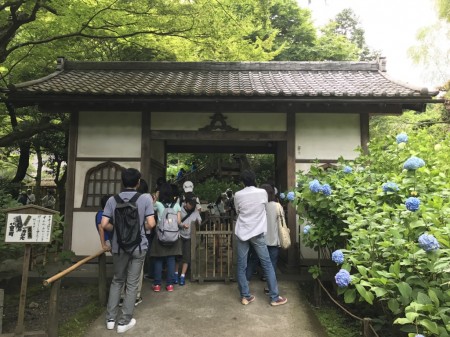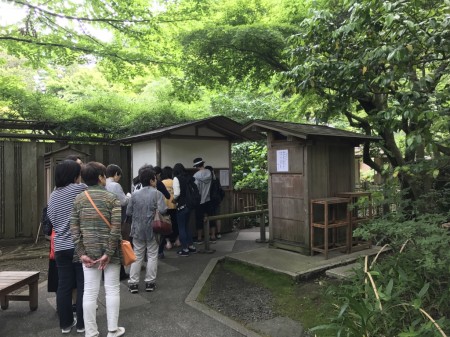 A pathway leads you to the entrance gate.
There are three ticket counter on the right and left side.
(Usually only one counter opens.)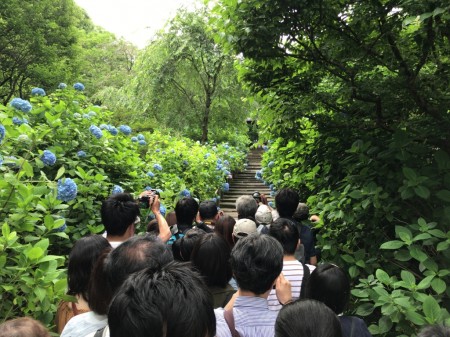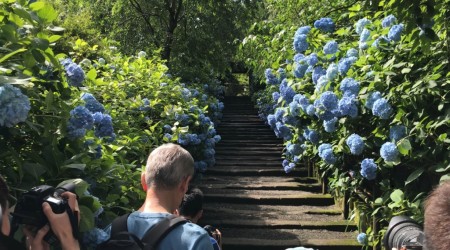 Go straight from the gate, then you can go to this place where many tourists take pictures.
This hydrangea path is the best photo spot in this temple.
I had to come to here in a hurry as soon as the gate is opened,because it is crowded with people in a few minutes.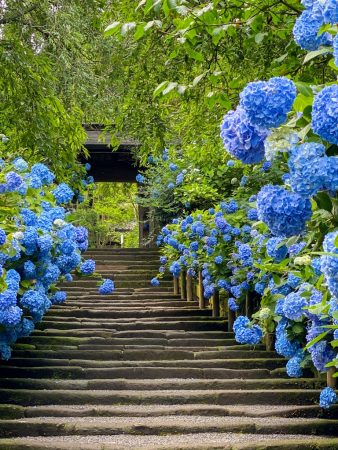 If you want to take a picturesque photo, you have go to the head of the line between 8:30 ~ 8:35.
I held my iPhone little lower than the eyes, then tapped the shutter button with 3 ~ 3.5 times zoom.
It was very difficult to reduce camera shake as people was very crowded.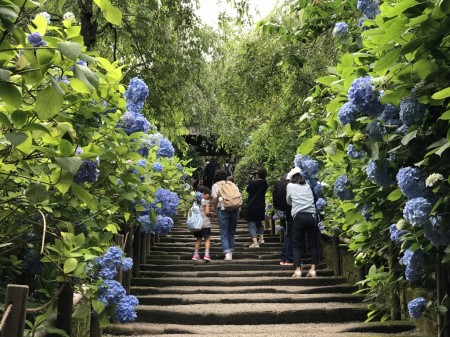 If you miss the best timing, people come into the path one after another.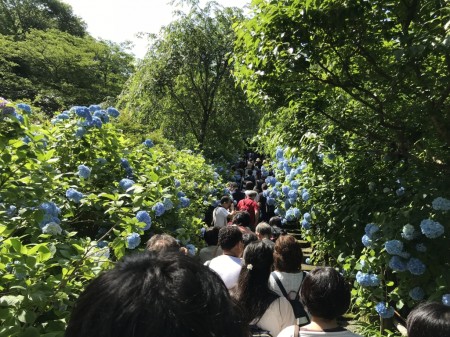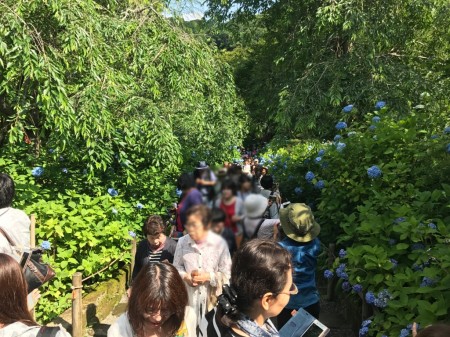 Then a few minutes later, hydrangea path was filled with people!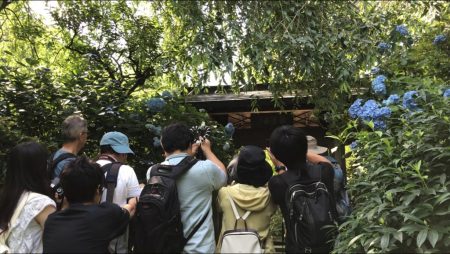 This gate in the end of the path is popular photo spot, too.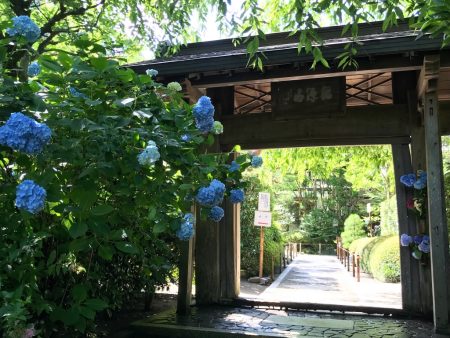 Taking photo without any person behind the gate was very difficult as many people went through.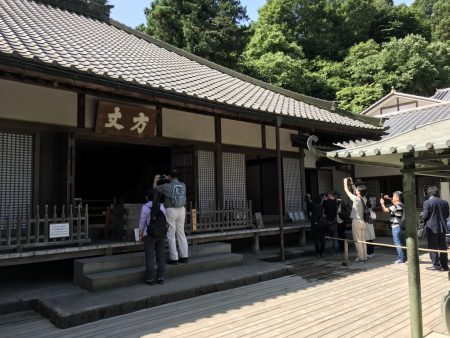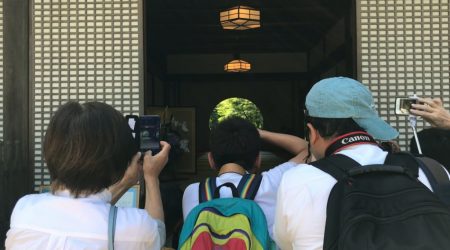 Then I moved to the other popular photo spot with haste.
Because it would be crowded soon.
This is the main hall (Hojo).
The view of garden through a round window is very famous.
People always make long line to take pictures of the garden through a round window.
It became more longer as time passed.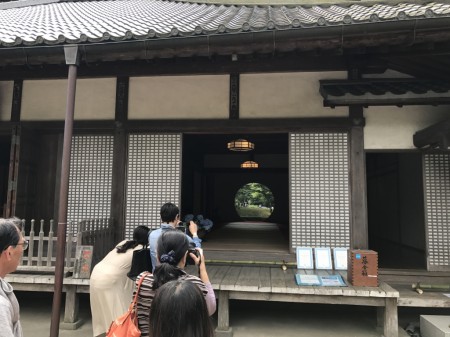 I couldn't take much time to shoot pictures because many people were waiting behind me.
So during the waiting time I considered many compositions.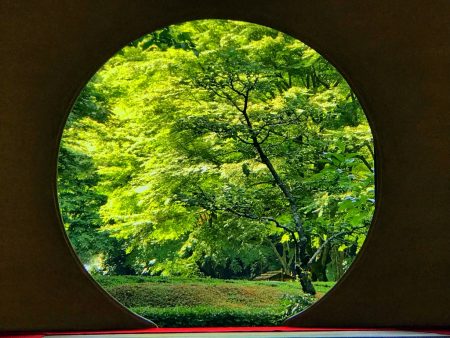 The fresh green leaves were so beautiful!
In the autumn it turn into gorgeous red colors.
I took this picture with 3.5 times zoom by iPhone with attaching 2x telephoto lens of Switch 6 for iPhone 8 Plus / iPhone 7 Plus.
If you don't wear any lens to your smartphone, you will need 8 – 10 times zoom.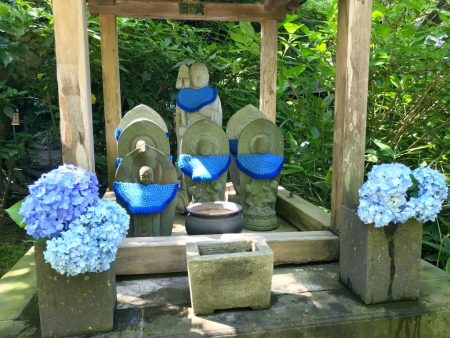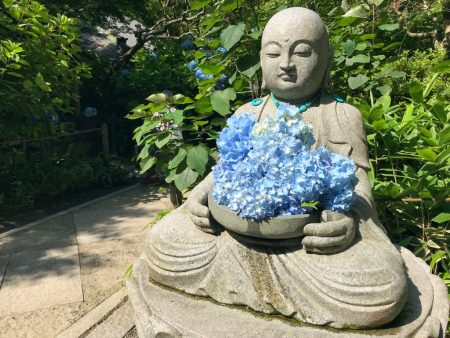 Hydrangea and Jizo Statue.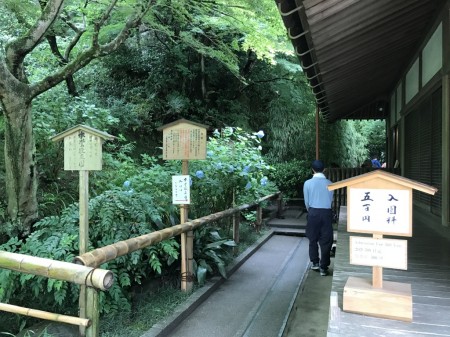 After finished shooting photo, I went to the inner garden.
This is the entrance.
You can enter into it for a limited time in the season of hydrangea or autumn leaves.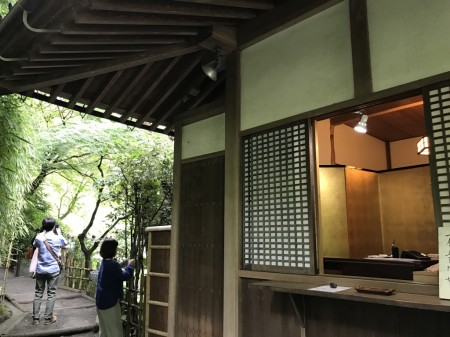 Ticket counter.
It costs 500 yen for 1 adult.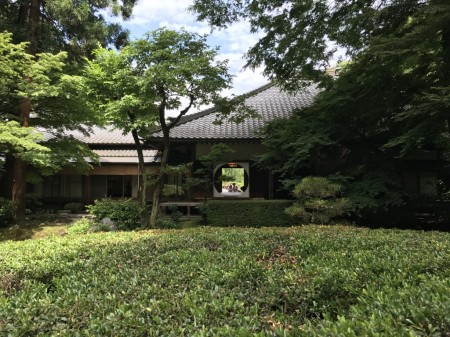 Round window of the main hall could be seen from the opposite side.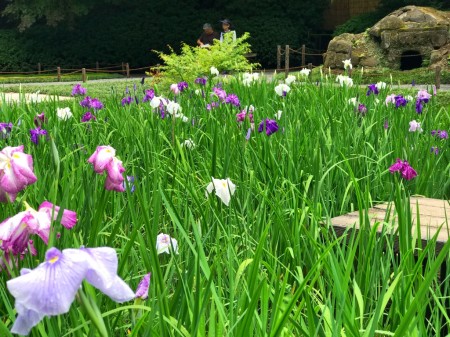 Iris was fully bloomed.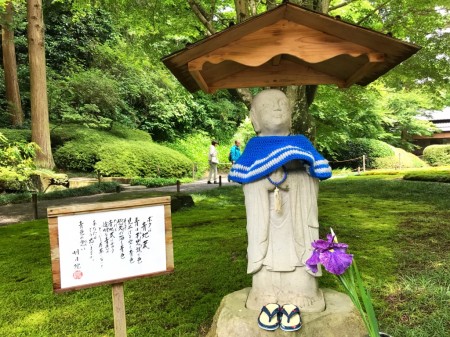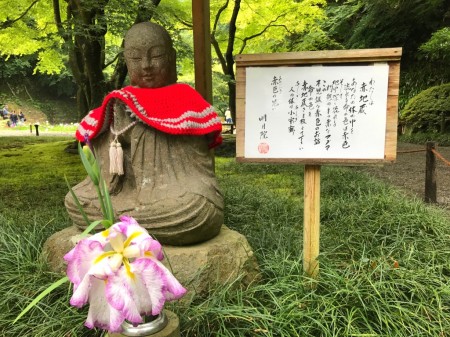 Blue and red Jizo statue with iris.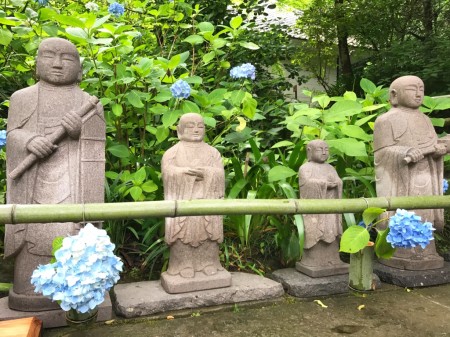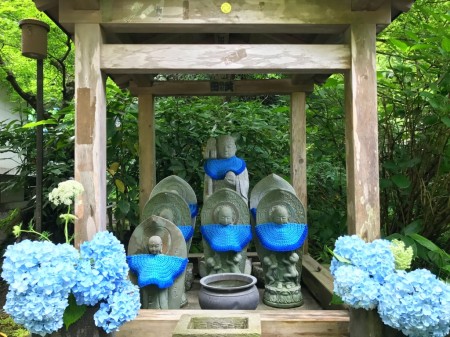 Went out from inner garden and I looked around other places.
There were Jizo statue with hydrangea here and there.
This temple is famous for its beautiful blue hydrangea.
That's because Jizo statue wears a blue cloth.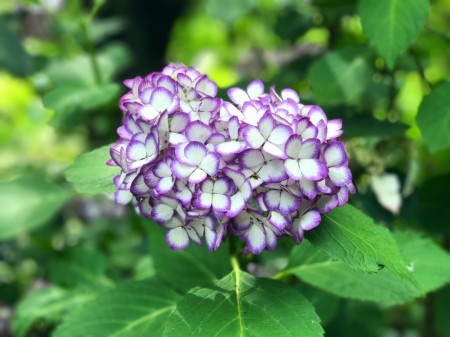 Besides the blue one, they had many kinds of hydrangea.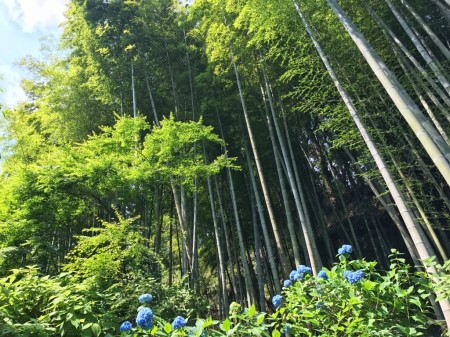 Bamboo forest and hydrangea was also beautiful!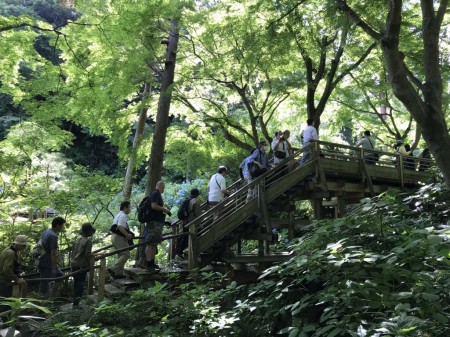 Wherever I went, it was very crowded.
I felt tourist of here increased than last year.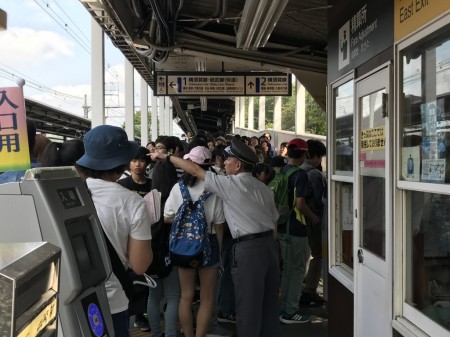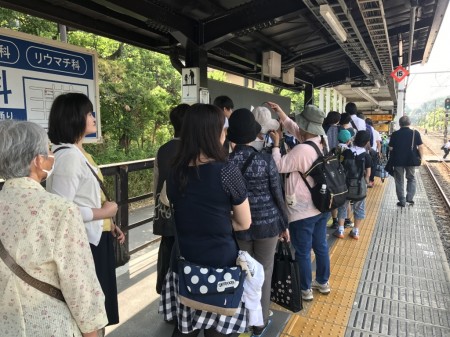 When I went back to Kita Kamakura station, I found it was very crowded with people.
They made a long line to go out from platform because the exit gate was too narrow.
If you want to get off at Kita Kamakura station in the tourist season, you should get on the first car toward the direction that the train is heading.
Then you can go to the ticket gate faster than anyone and exit quickly.
8 June 2018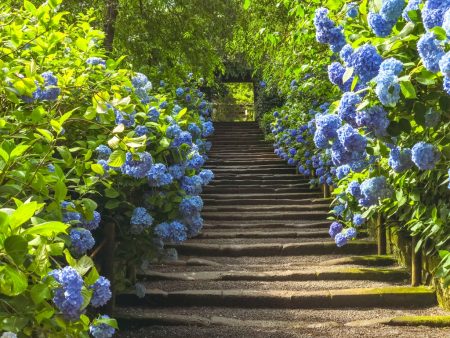 17 June 2017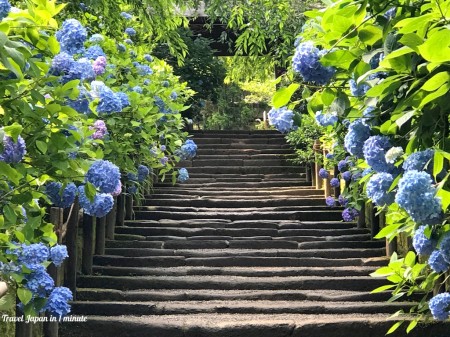 Information
【Opening hour】
June → 8:30~17:00
January – May, July – December → 9:00~16:00
【Admission Fee】
300yen
(You can enter the garden for a limited time in the season of autumn leaves and iris. 500yen)
【Access】
・Train
10 minutes walk from Kita Kamakura station of JR Yokosuka line.
・Car
They don't have a parking lot.
The nearest one around Meigetsuin temple is Shinko Park Kita Kamakura.
(5 minutes walk to Meigetsuin.)
But it becomes full soon because only 7 cars can park.
Other beautiful places in Kamakuara
コメント