There are many places around Fuji Five Lakes(lake Kawaguchiko, Saiko, Yamanakako, Shojiko and Motosuko) that you can see the beautiful autumn foliage with Mount Fuji.
Among them,the most beautiful place for me is Lake Kawaguchiko.
The best time to see is mid of November every year.

2018
16 November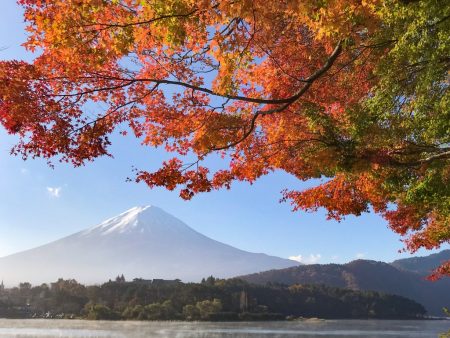 Finally the autumn leaves season has come to my favorite place!
I was worried about the damage of these trees by the huge typhoon in the summer, but they show us picturesque view again this year.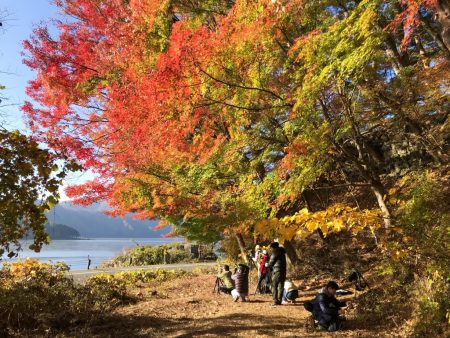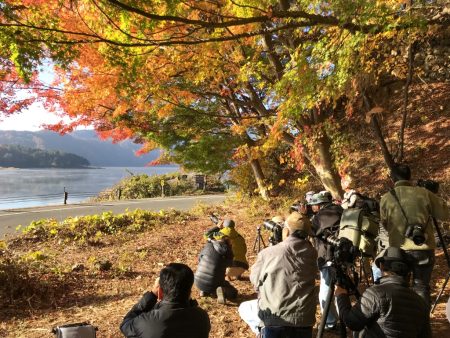 Camera buffs gathered under the tree.
They used DSLR camera, on the other hand, I brought only iPhone 😆 as always.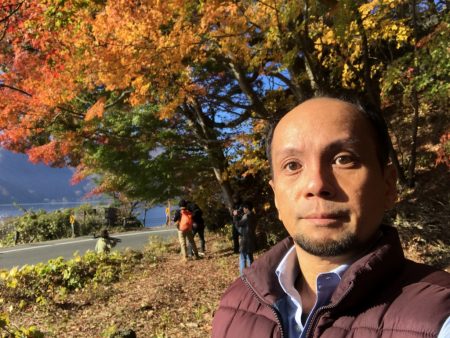 My selfie.
26 November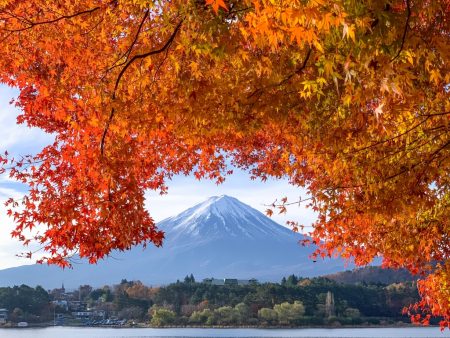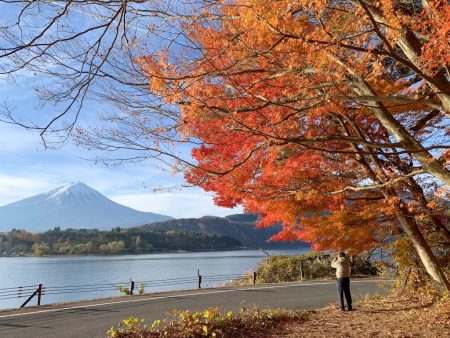 It's been 10 days since I last visited there.
Green leaves turned to bright red and it made this scenery more gorgeous!
Contrary to the last time, there was only 1 person around me and I could take my time to shoot many pictures.
2017
26 October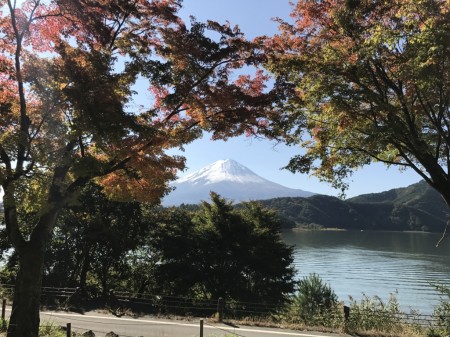 I went to Momiji Tunnel to see weather the leaves turned to red or not.
It was just beginning.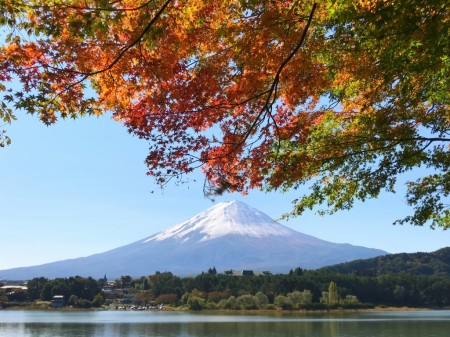 But it became a beautiful picture by cutting out the part.
I took this picture with 2 times zoom by iPhone.
6 November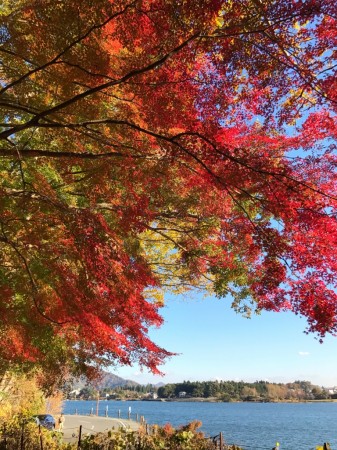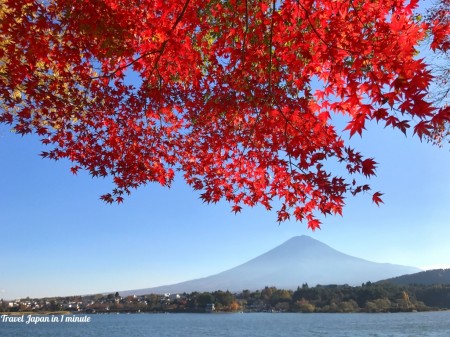 It was nearly the peak of the autumn leaves.
I could take a nice picture depend on the place.
9 November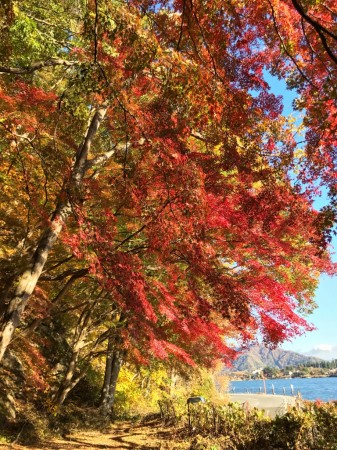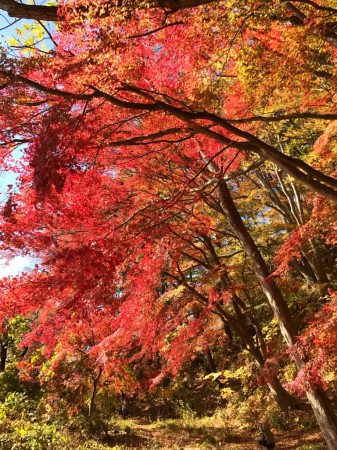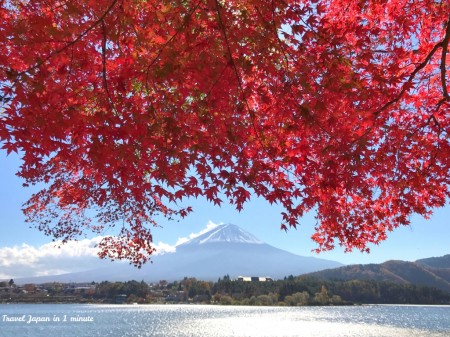 It was best time to see the autumn leaves!
Actually the scenery in 2016 was more beautiful.
But still it was a gorgeous scenery.
I took a picture of Mt.Fuji with 1.5 times zoom by iPhone.
21 November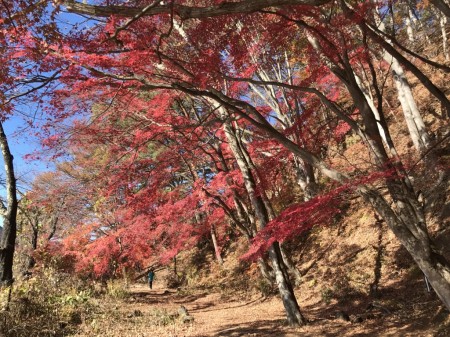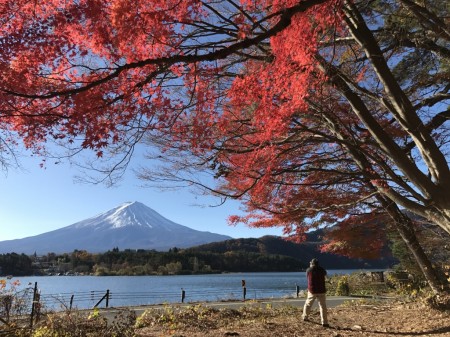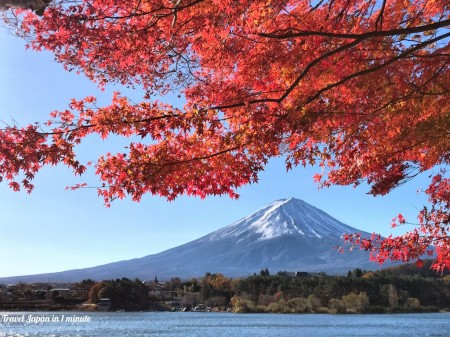 河口湖もみじトンネルの紅葉と富士山 #theta360 – Spherical Image – RICOH THETA

It had already past its peaks because many leaves fell.
But still beautiful and I could take beautiful picture depends on the places.
There are many photogenic spots in here, so you can enjoy seeing autumn foliage for a long time.
I took this picture with 1.5 times zoom by iPhone at the same position with the man in the picture above.
17 Nov. 2016
Momiji Kairou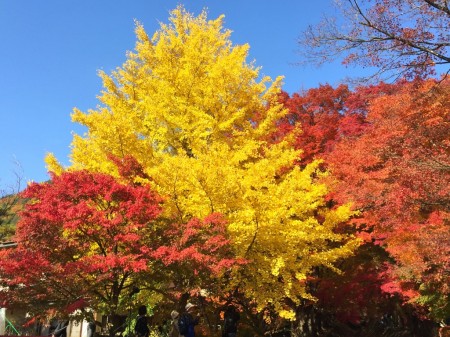 At first, I went to Momiji Kairou(maple corridor) at lakeside.
It is famous place for its beautiful autumn leaves.
The trees at the entrance were so beautiful.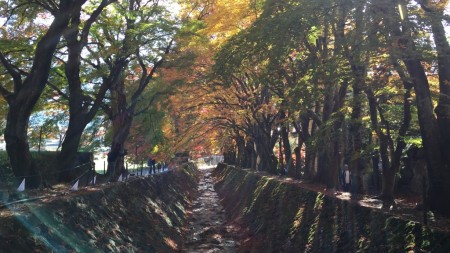 But the leaves of inside weren't colored yet.
Plus there weren't the place that I could take pictures with mount Fuji.
It was disappointing to me because I came all the way here to take photo of autumn leaves with Mt.Fuji.
I asked the staff of parking lot that whether he knew the good place to take a photo.
Then he told me the place called "Momiji Tunnel".
He said that people who likes photography went there.
I headed to the tunnel right away by the car.
There isn't bus so almost all people go there by the car.
Some people uses rental bicycle.
Momiji Tunnel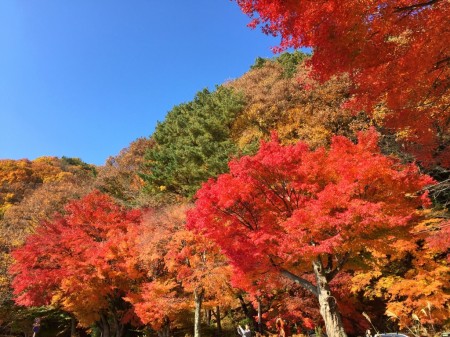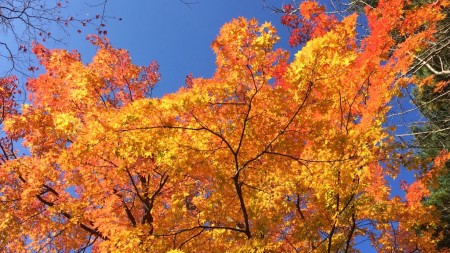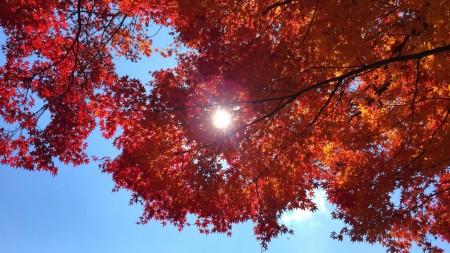 I arrived at Momiji tunnel about 6 minutes after.
Ohhh…it's so beautiful!!
This is what I wanted to see.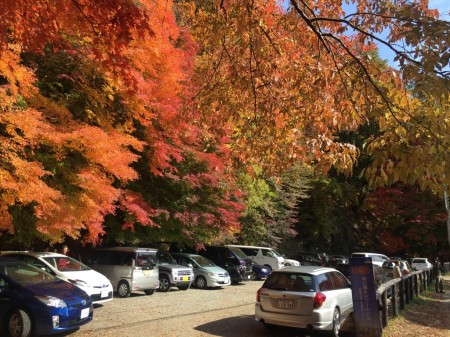 Free parking lot was almost full.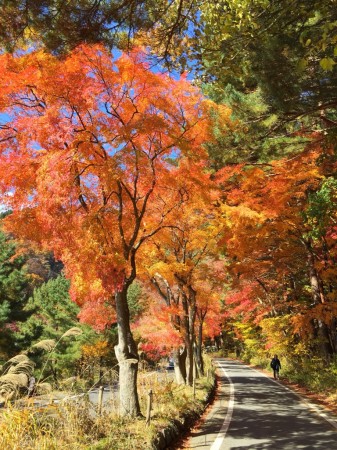 I went to other place by walking this road.
河口湖のもみじトンネル #theta360 – Spherical Image – RICOH THETA
I found the more great view!
That was what I wanted to see!!
It was a dreamlike scenery for me.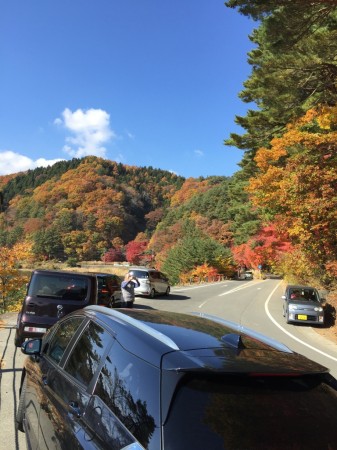 There weren't any parking lot around here.
So people stopped their car by the roadside.
Information
Admission Fee
free
Access
Car
About 2.5 hour from Tokyo via Chuo expressway.
Train & Bus
Shinjuku stn. in Tokyo → 1.5 hour by JR Chuo Line → Otsuki stn. → 1 hour by Fuji Kyuko Line → Kawaguchiko stn. → 30 minutes by Kaiwaguchiko Sightseeing Bus "Red-Line" → Kawaguchiko Natural Living Center(bus stop no.22) → 20 minutes walk
Or you can Taxi(20min.) or rental bicycle from Kawaguchiko station.
Express Bus
Shinjuku Highway Bus Terminal in Tokyo → Approx. 2hour by Fujikyuko Bus → Kawaguchiko stn. → 30 minutes by Kaiwaguchiko Sightseeing Bus "Red-Line" → Kawaguchiko Natural Living Center(bus stop no.22) → 20 minutes walk
Other autumn leaves near the lake Kawaguchiko
Beautiful scenery in other season near the lake Kawaguchiko
Recommended Restaurants near here
コメント